CANCELLED: This Old Castle: Stained Glass Conservation and Restoration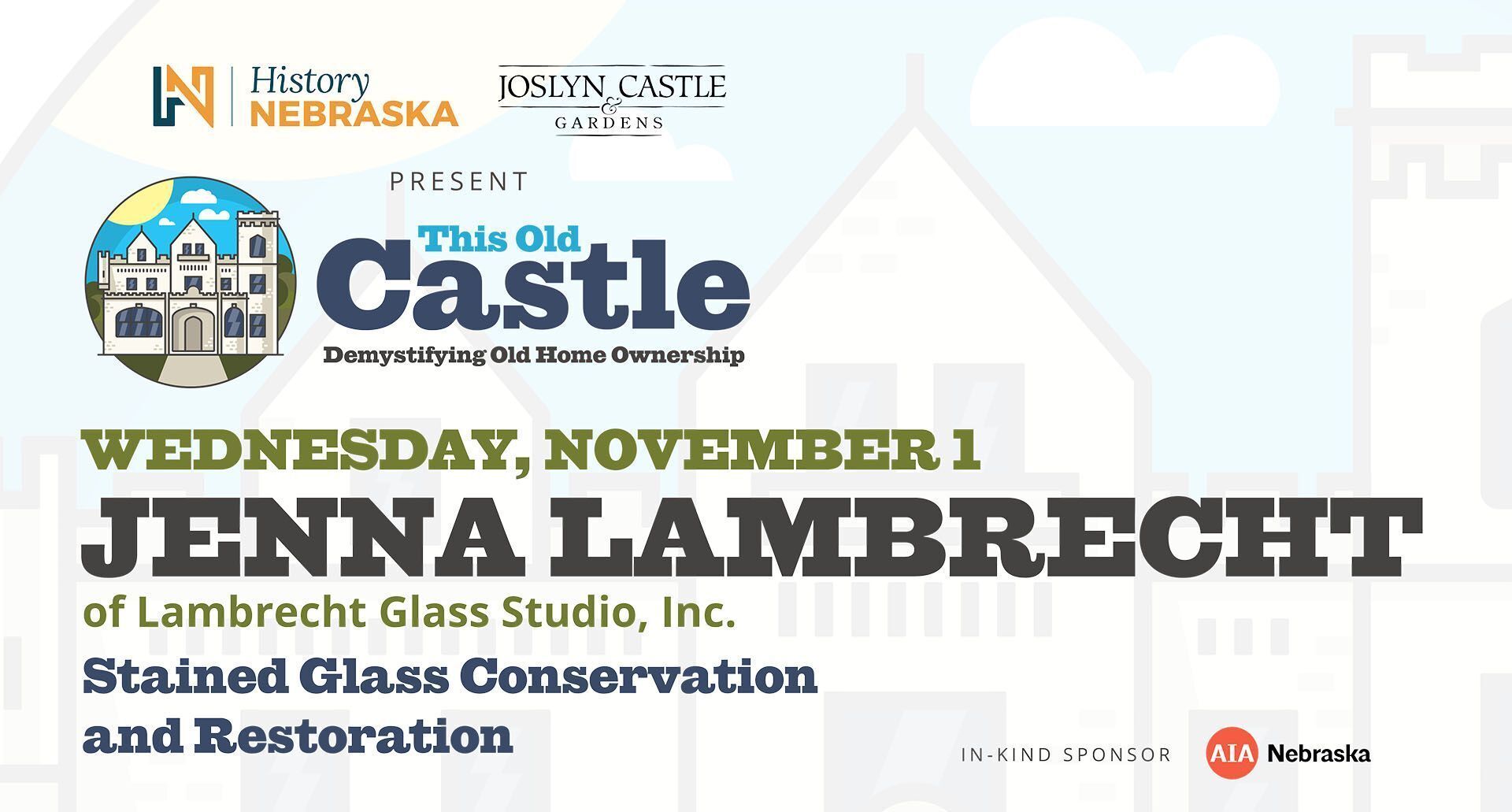 UPDATE: Due to illness, tonight's presentation will be rescheduled! If you've reserved a spot, check your email for refund information. 
Old home ownership is not for the faint of heart (trust us, we know!), but we're here to help!
We've teamed up with our friends at History Nebraska to bring you a series designed to demystify maintaining and preserving your old home or building. We're calling it This Old Castle, and you're invited to learn alongside us from the best experts in town.
For the November installment of This Old Castle, we welcome Jenna Lambrecht of Lambrecht Glass Studio, Inc. Jenna will lead a presentation for best practices of caring for your home's stained and leaded glass. Jenna is also currently working on a stained glass restoration project of the Joslyn family mausoleum window in Forest Lawn Cemetary. She'll give us an update on the project and her methods.
About our speaker:
For over a thousand years, stained glass windows have combined grace and function to stunning effect - captivating onlookers with vibrant scenes, patterns, and compositions steeped in light.
It's a tradition Jenna Lambrecht of Omaha's Lambrecht Glass Studio carries on today, one she learned under the careful tutelage of her father, Mark Lambrecht.
"My parents started the business in '78, in the house I grew up in," Jenna recalled. "Kind of a strange place for a kid to grow up in, but it was a safe and fun place to be, constantly surrounded by creative energy."
While Jenna picked up design cues from her mother Kristi, it was time spent with her father - evenings passed patterning and cutting glass in the Old Market studio or instructive noontime meetings with prospective clients - that solidified her descision to helm the studio in 2020.
Lambrecht Glass Studio, Inc. works in traditional methods while also embracing the contemporary side of glass, offering the most modern materials and ideas.
Architects: Tonight's presentation is pending for AIA HSW CEU credits.
Real Estate Agents: Tonight's presentation is eligible for Nebraska Real Estate Commission CE credits.
(Relevant documentation will be available at check-in).