Tour the Joslyn Castle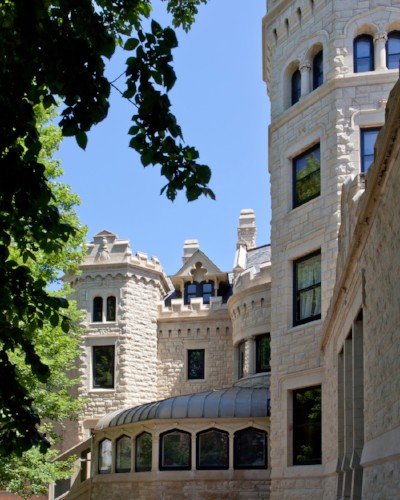 Public tour times:
Every Monday at 10:30am and 12:30pm
Every Thursday at 2pm (Memorial Day-Labor Day)
First and Third Sunday of every month at 1pm, 2pm, and 3pm. 
Reservations are not required for public tours. Closed on major holidays, except Memorial Day and Christmas Eve (see calendar).
Please note: While the gardens and grounds are always open to the public, the Joslyn Castle building is only open to the public during scheduled tour times and programs. 
The Scottish Baronial mansion in the heart of Midtown Omaha has been enchanting visitors since the doors first opened in 1903. 

Whether it's a family outing, a day with your co-workers, or gathering with your friends, we welcome you to tour the historic Joslyn Castle.
---
Questions regarding public tours? Call the Joslyn Castle tour line and a staff member would be happy to assist you!
Tour Line: (402)595-1415
---
Public Tour FAQ's
What is included in a tour?
Your tour of the Castle includes the main, second and third floor. The tour begins with a ten minute overview of George and Sarah Joslyn and the history of their home. After the video, we'll explore the Castle together. 
Free parking is available on site and an elevator is available for those needing assistance.
Admission for all Castle tours:
$10 Adults
$8 Seniors, students, and military. A Senior is considered 60 years old or older, and a student is K-12 and University with ID. 
Cash, card, and checks are accepted.
Do I need to make a reservation for a public tour?
No, if you attend a regularly scheduled public tour, you do not need to make a reservation. Just show up!
Where do we go for a tour?
Meet at the front doors of the Castle. The doors will be opened 15 minutes prior to the start of the tour.
Is photography allowed during a tour?
Yes, snap away! Please no flash photography. 
Is there a gift shop?
Yes, we have a gift shop on site with Joslyn Castle souvenirs and goods from local makers to take home with you.
Is the tour kid-friendly?
Tours are best suited for school-aged children. Children under 12 must be accompanied by an adult at all times.
Is the Castle accessible?
For those with mobility issues, the Castle has a lift located at the rear of the building. Please inform a Joslyn Castle staff member if you require the use of the lift prior to your tour, so we can best accommodate you. The Castle has an elevator that accesses all levels. 
Where is the Joslyn Castle located?
The Castle is located at 3902 Davenport Street, Omaha, Nebraska.