Architecture on Tap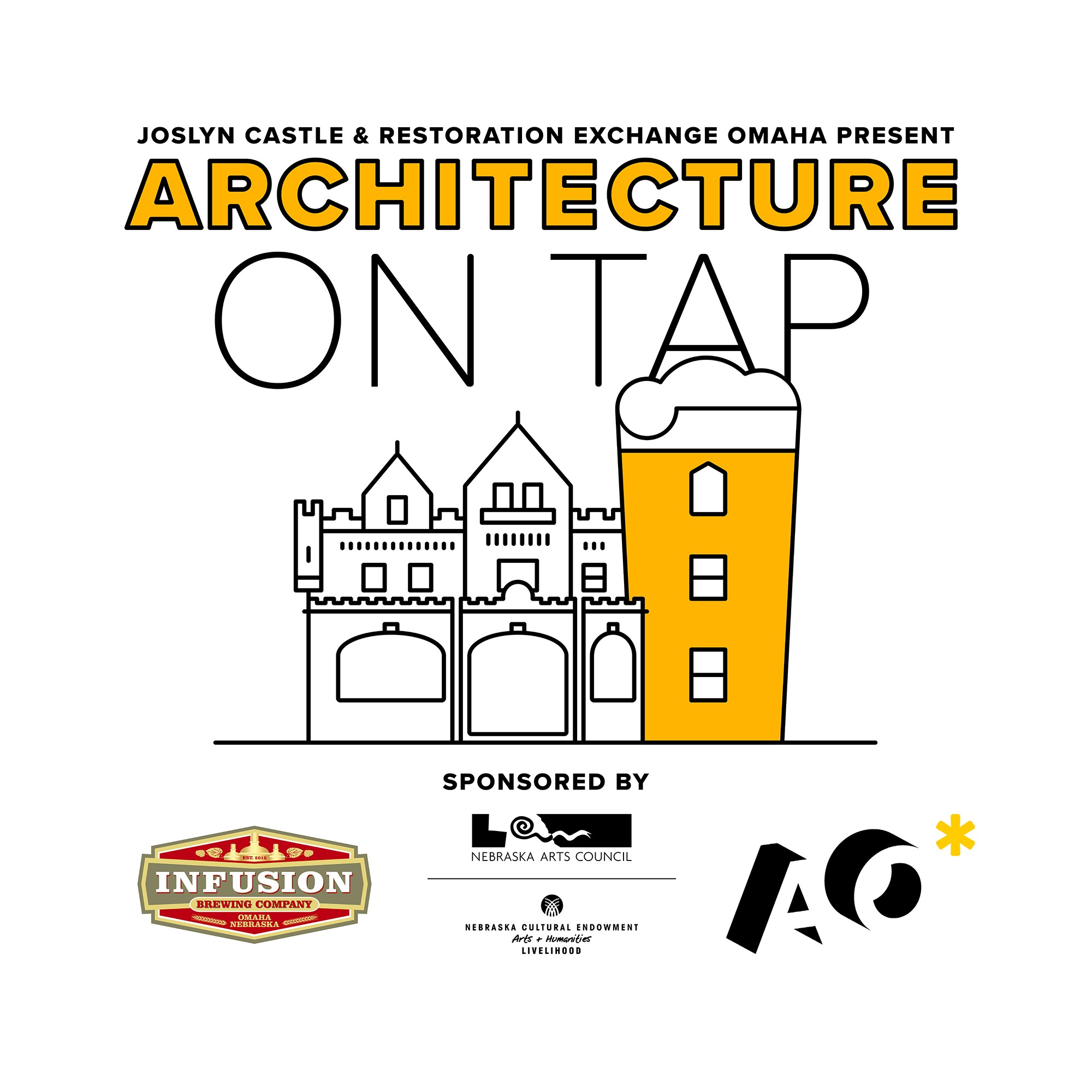 *Update: All Architecture on Tap events are completely full! Thank you for the overwhelming support!*
The Joslyn Castle and Restoration Exchange Omaha present Architecture on Tap, a celebration of our historic built environment and the pillars of architecture who left indelible marks on the fabric of Omaha.
Architecture on Tap is free to the community (registration required) on Tuesday evenings in July. Grab a beer from Infusion Brewing Company, explore an exhibit of historic and contemporary blueprints displayed throughout the first floor of the Joslyn Castle, then settle in for a lecture presented by local experts.
Architecture on Tap is sponsored by AO* Omaha and Infusion Brewing Company, with the support of the Nebraska Arts Council and the Nebraska Cultural Endowment.
Doors open to the public at 5:30pm, and presentations start at 6pm.
---
About our Topics and Speakers:
EVENT FULL July 9th - John McDonald: To kick-off the series, the choice was obvious. John McDonald is the architect of many of Omaha's most beloved landmarks including, of course, the Joslyn Castle. Our expert presenter tonight is Kristine Gerber, local historian, author, and current book editor for the Omaha World-Herald.
EVENT FULL - July 16th - Thomas Kimball: Tonight's topic focuses on the life and prolific body of work of Thomas Kimball. Kimball left his mark on our city through soaring towers and ornate public buildings. Our expert tonight literally wrote the Kimball book: Joni Fogarty. Joni Fogarty is a local historian, author, and member of the Landmarks Commission.
EVENT FULL - July 23rd - Horace Cleveland: Omaha Parks and Recreation's Landscape Architect Dennis Bryers will lead a discussion about Omaha's celebrated parks and boulevard system. The historic figure behind our city's plan is Horace Cleveland, a national-recognized landscape architect who cited Omaha's parks and boulevards among his proudest achievements.
EVENT FULL - July 30th - Michael Alley: Tonight we welcome architect Michael Alley, to wrap up our series with a discussion about Omaha's relationship with our historic built environment. Michael is one of the founding principals of Alley Poyner Macchietto Architecture and has more than 35 years of experience in the design and construction industry. His work has received national and regional awards for building and lighting design and has been published nationally.