Architecture on Tap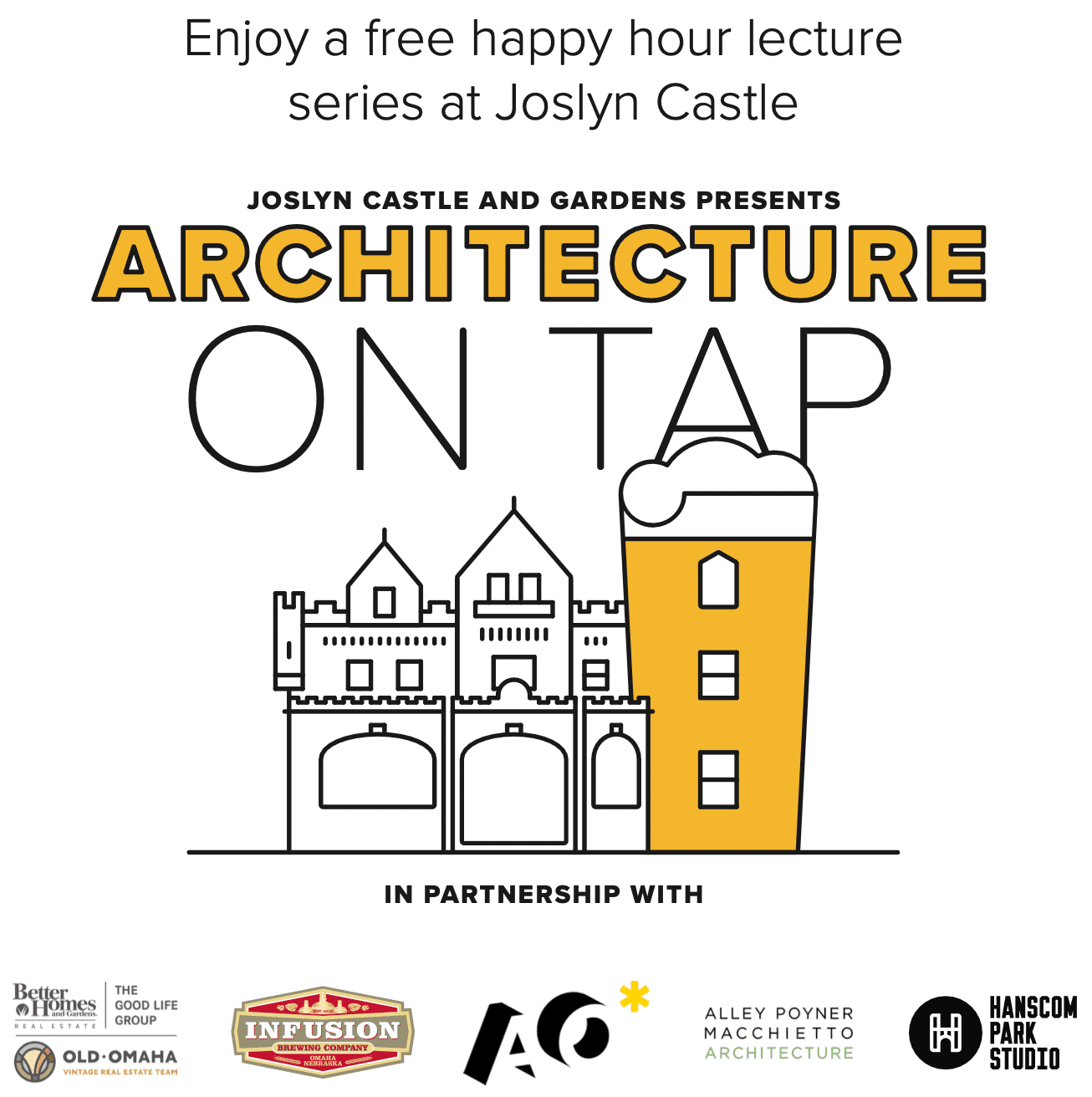 *ARCHITECTURE ON TAP IS SOLD OUT! Thank you for your support!*
Joslyn Castle & Gardens invites you to join us for Architecture on Tap - a complimentary happy hour lecture series highlighting four diverse and historic neighborhoods: Joslyn Castle/Gold Coast, Hanscom Park, the Near North Side, and Little Bohemia. Enjoy a relaxed evening of exploring Omaha's rich history with local experts; all in your friendly neighborhood Castle!
Registration for each event is free to the public. Due to limited capacity in the Music Room, registration is required. Doors open at 5:30pm and the lectures begin at 6:00pm. A cash bar will be available with craft beer sponsored by Infusion Brewing. This is a 21+ event. 
Architecture on Tap is presented in partnership with Alley Poyner Machietto Architecture, AO, Tim Reeder/Old Omaha Vintage Real Estate Teamof Better Homes and Gardens Real Estate - The Good Life Group, Hanscom Park Studio, and Infusion Brewing Company.
---
About our Topics and Speakers:
SOLD OUT July 7th - Joslyn Castle/Gold Coast presented by Ryan Reed: To kick-off the series, the choice was obvious. We just had to look out of our front door to the historic and diverse Joslyn Castle Neighborhood and the Gold Coast! Our expert presenter tonight is Ryan Reed, the manager of tax incentive programs with the Nebraska State Historic Preservation Office and the face behind the popular Eastof72nd Instagram account.
SOLD OUT July 21st - Hanscom Park presented by William Stott: The fabled birth site of a US President and the current home to the best dog park in Omaha, Hanscom Park is one of the oldest and most desirable neighborhoods in town. AO Principal Architect William Stott, AIA, knows all the ins-and-outs of his home neighborhood, and he will fill us in on what makes Hanscom Park so special.
SOLD OUT July 28th - Near North Side presented by Lasha Goodwin: City Planner Lasha Goodwin joins us for a discussion about the history and future of her home, the Near North Side. Lasha's love for the built environment and the people within it blossomed from her exploring the deep-rooted familial history of her native North Omaha. The North 24th Street corridor has been the site of many pivotal events in Omaha's history, and in recent years has become a center for community and culture. 
SOLD OUT August 4 - Little Bohemia presented by Marie Sedlacek: To wrap up the series, we welcome retired architect Marie Sedlacek, a life-long Omaha girl of Czech background whose family had deep roots in the 13th street Czech community. Little Bohemia has experienced a period rapid revitalization in recent years, and in response Marie co-founded the Historic 10th Street Neighbors and Advocates group to best promote the interests of the residents to developers. She'll share about Little Bohemia's history and the current work of her group.