High Tea at the Joslyn Castle
SOLD OUT - Thank you!
We here at the Joslyn Castle are overjoyed to announce that we will be hosting a truly smashing Afternoon Tea in partnership with High Tea Omaha! 
Join us on April 13th at 3:00 PM for a variety of expertly brewed teas, a glass of prosecco, delectable morsels of both sweet and savory varieties, including traditional English scones with the appropriate accoutrements, and French patisserie all displayed on charming vintage china and serving ware.
The first floor of the historic gem that is the Joslyn Castle will be yours to roam, as you are our dear guest, and docents will be near to answer any questions that you might have pertaining to the Joslyns and their luxurious estate. 
This is the sort of break in the afternoon that you truly deserve- elegant fare in a Castle... wouldn't you agree?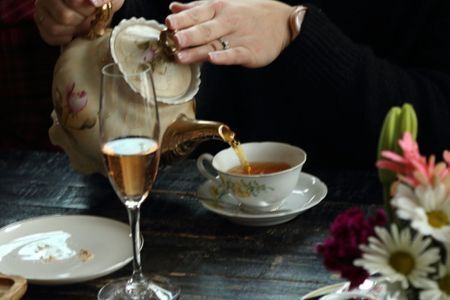 High Tea Omaha: A Fresh Brewed Delight
High Tea Omaha is a new and thoughtful creation from the minds of Cedric Fichepain and Lisa Ehlers. Together they put on a beautiful afternoon tea service with vintage china from Lisa's personal collection, fantastic food prepared at Cedric's bakery, Le Petit Paris, and high quality teas from The Tea Smith.
Cedric and Lisa are a wealth of knowledge about the history of tea and tea practices; you will float away from this experience with fascinating facts to share, and a newfound desire to dine daily on petit, well-crafted food morsels.