POE-try Contest Submission Form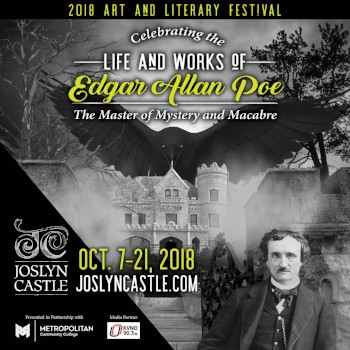 Don't you love reading the old poems of Edgar Allan Poe aloud? Their sounds are rich and sonorous; their rhythms are haunting and hypnotic; their subject matter is chilling and macabre.
Have you, yourself, ever tried your hand at writing a poem in the vein of Mr. Poe? Are you up for the challenge now? What's your take on "The Raven" or "The Bells"? Who is your "Annabel Lee"?
Send them our way! There will be prizes in three categories: Adult, High School, and Middle School. A public presentation of selected writers reading their poems will be on Saturday, October 13th, at 5:00 pm. Following the readings at 7:30 there is a scheduled performance of Tales of Poe, presented by Metropolitan Community College's Theatre Program's. Reservations are required for the performance. Finalists who present will receive a complimentary admission to the evening's performance.
There are no style constrictions. We only ask that your poem be inspired by the language, subjects, rhythm, or tone of Edgar Allan Poe's work. Winning poems will be selected by author, poet, and professor of Creative Writing at UNO, Todd Robinson. 
Entries must be received by October 3rd.  Participants will be notified via email by October 4th
The POE-try Contest is Now Closed.