SOLD OUT: This Old Castle: Preservation and Care of Historic Wood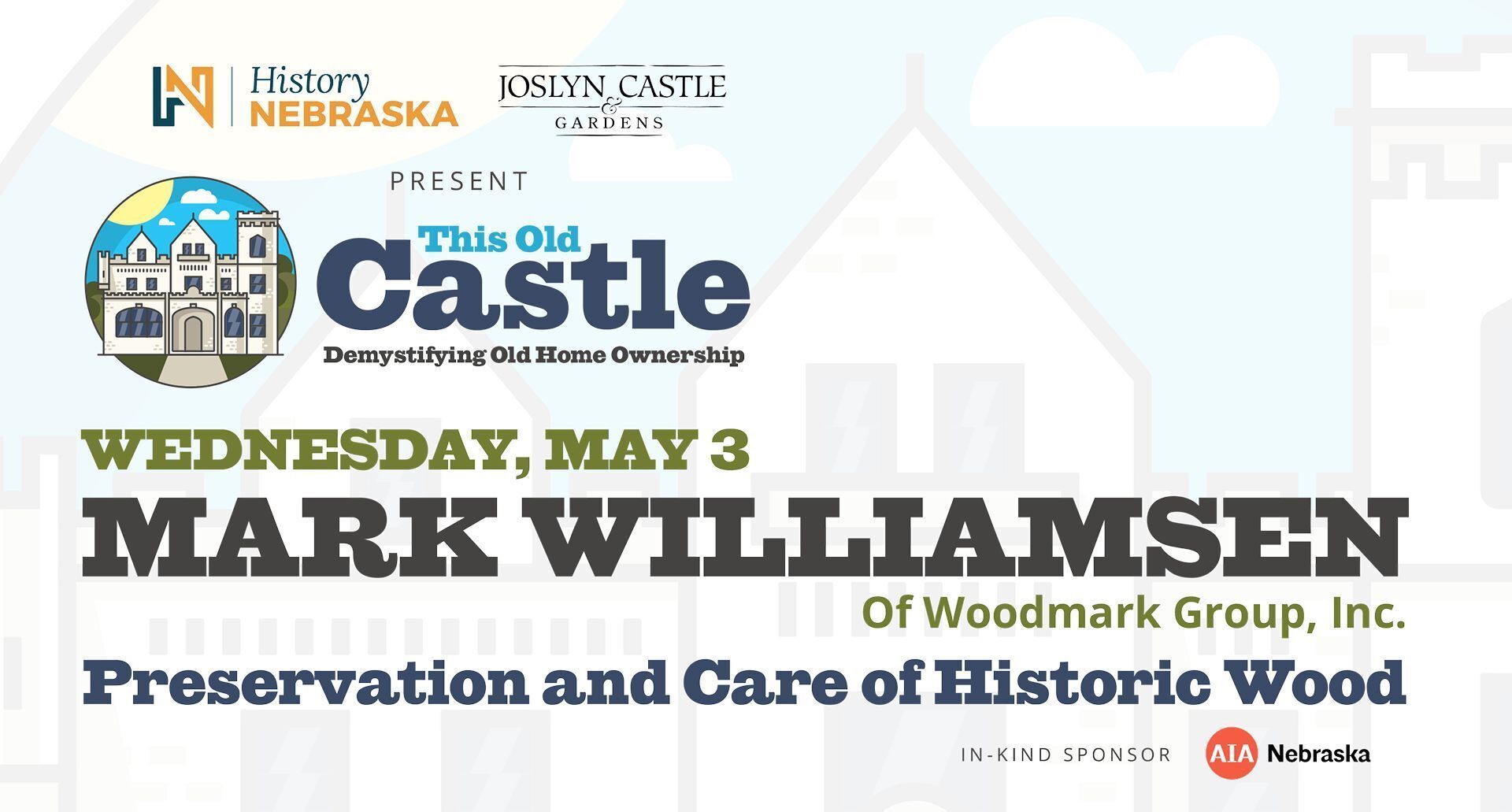 Old home ownership is not for the faint of heart (trust us, we know!), but we're here to help!
We've teamed up with our friends at History Nebraska to bring you a series designed to demystify maintaining and preserving your old home or building. We're calling it This Old Castle, and you're invited to learn alongside us from the best experts in town.
In addition to interactive presentations from the experts, attendees will be the first to learn about (and see) the major restoration projects happening inside the Joslyn Castle.
The Joslyn Castle is excited to welcome a member of our Castle team to the This Old Castle line-up for a presentation about the care of wood in old homes. Mark Williamsen keeps our rare and exotic woods looking their best - and he's ready to share his expertise with you!
Attendees will learn how to identify existing coatings on their woods, and which contemporary coatings are compatible with historic woods. We'll also learn how to address water damage and sun fade issues, and how to prevent future damage. The Castle will be our classroom tonight, as we see Mark's work in action around the historic property.
About our speaker: Mark Williamsen is a native Nebraskan and grew up in the area around Blair, Nebraska. He has a life-long love of antique furniture and old homes. As a child, he spent many hours in his grandmother's Victorian home. They would go to estate sales to find furniture for the home. These precious treasures became restoration projects for them to work on together in the winter months. As he grew older, he also spent many hours helping to maintain the home. It was a hands-on education to learn the techniques of restoration.
Many furniture restoration techniques he has learned over the years are also applicable to restoration of the woodwork in historic homes. He has used these skills at Joslyn Castle.
Tonight's Program:
5:30pm - Doors Open
6:00pm - 6:15pm - Welcome and Castle Restoration Update
6:15 - 7:15pm - Mark Williamsen presents "Preservation and Care of Historic Wood"
We'll have a cash bar with soft drinks, water, beer, and wine available for purchase.
Notes:
Architects: Tonight's presentation is eligible for 1 AIA HSW CEU credit.
Real Estate Agents: Tonight's presentation is eligible for Nebraska Real Estate Commission CE credits.
(Relevant documentation will be available at the check-in table).