This Old Castle: Tips and Tricks on Researching the History of Your Older Property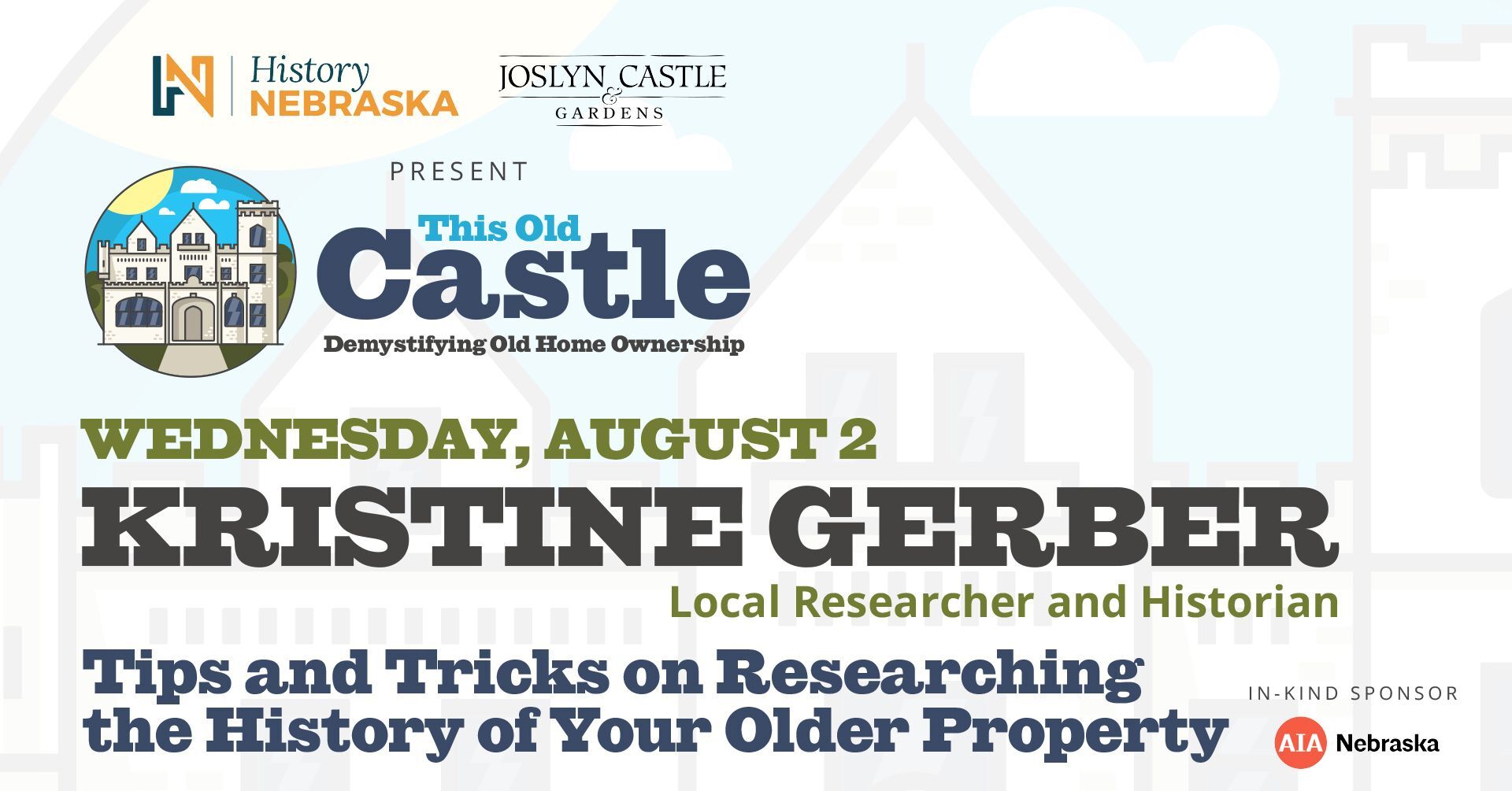 Old home ownership is not for the faint of heart (trust us, we know!), but we're here to help!
We've teamed up with our friends at History Nebraska to bring you a series designed to demystify maintaining and preserving your old home or building. We're calling it This Old Castle, and you're invited to learn alongside us from the best experts in town.
In addition to interactive presentations from the experts, attendees will be the first to learn about (and see) the major restoration projects happening inside the Joslyn Castle.
For the August installment of This Old Castle, we welcome local researcher and historian Kristine Gerber to present "Tips and Tricks on Researching the History of Your Older Property." Kristine has spent almost 25 years producing books on Omaha's history and the past 10 years getting Omaha properties on the National Register. Along the way she's discovered where to go to uncover the history of Omaha's people and its places. Learn her secrets while also taking home her updated list of go-to resources so you can make your own discoveries.
About our speaker:
Kristine graduated from Kearney State College where her journalism major gave her a love of meeting people and telling their stories. For the past 25 years, Kristine has done just that by uncovering and sharing the history of Omaha and its built environment through publications, events, and advocacy work. Currently Kristine manages Omaha Public Schools Making Invisible Histories Visible program. She spends the summer teaching secondary students and social studies teachers how to research and share Omaha's diverse history and during the school year writes social studies curriculum incorporating Omaha and Nebraska history into OPS classrooms.
Doors open at 5:30pm.
Notes:
Architects: Tonight's presentation is eligible for 1 AIA HSW CEU credit. AIA Nebraska is our in-kind partner on This Old Castle!
Real Estate Agents: Tonight's presentation is eligible for Nebraska Real Estate Commission CE credits.
(Relevant documentation will be available at check-in).