Close To Home: Virtual Workshops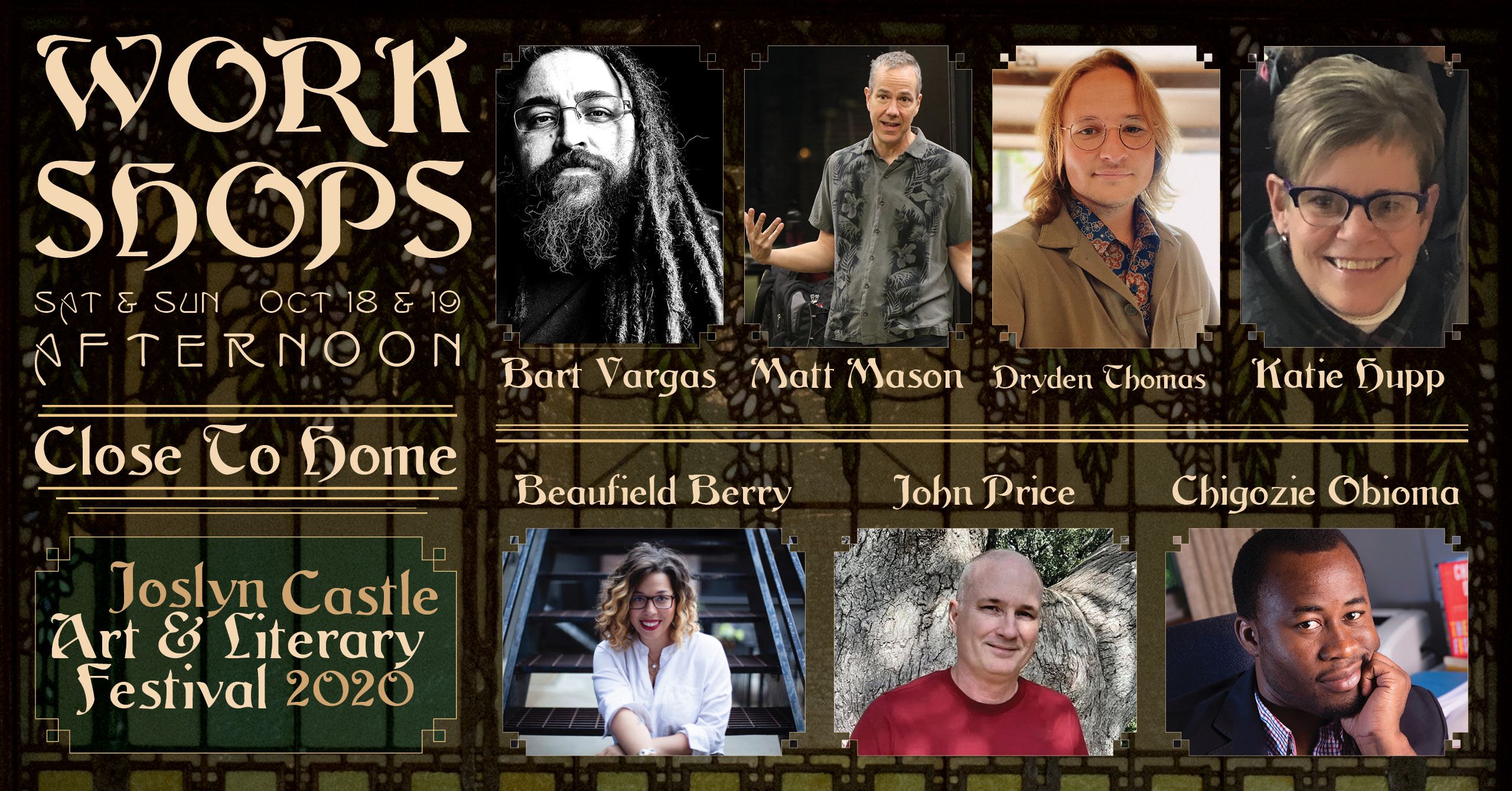 As part of Art and Literary Festival 2020: Close to Home, we are offering SEVEN free, virtual workshops centering around each of the disciplines represented during the festival, plus a universal workshop on mindfulness. Take as many as you want!
The workshops will occur over Zoom. Shortly before they begin, you will receive a code via email to join.
* Note: Most of these talks are interactive, but Chigozie Obioma's lecture will be pre-recorded.
Saturday, October 17
1:00 pm—Bart Vargas
"Daily Drawings"
For over a year, Bart Vargas has been making a drawing and posting it on social media everyday. These drawings are drawn collages sampled from a variety of contemporary sources to create funny, serious, relatable, and ambiguous images all at the same time.
During this workshop, Vargas will explain his ideas, and demonstrate how he creates these images, and shares them with the world through the online community.
2:00 pm—Matt Mason
"Too Close To Home"
We've spent plenty of days at home these past six months, so it's time to journey out and write about the world. No, not hop a virus-laden plane for New Zealand, I'm talking head into your own spaces to see them in different ways. Kind of like the 1957 movie "The Incredible Shrinking Man" where the guy shrinks and has to battle spiders in his basement and wade through a jungle of lawn... but we'll do this more safely as we write about where we are and where we can find ourselves.
3:00 pm—Dryden Thomas
"Write Like You: Expressing Identity Through Music"
Finding your niche as a musician is challenging. But it's also a crucial step toward creating your best songs and reaching the listeners who will love them. Producer/Songwriter Dryden Thomas will help you uncover your unique musical self, then show you how to make it the foundation of your creative output.
4:00 pm—Katie Hupp
"From Reaction to Response: Mindfulness in Trying Times"
"Mindfulness is a pause - the space between stimulus and response: that's where choice lies."
~Tara Brach
Always, but especially now given our current circumstances, creating space between stimulus and response is crucial for our well-being because it allows for the pause needed to shift from being reactive to being responsive.
When ruminating about the past or fretting about the future, we are driven by a negativity bias. When bringing awareness to the present moment, we learn to extend compassion, practice self-care, and stay grounded. The cultivation of mindful qualities both benefits us and has a positive ripple effect on those with whom we live and work.
In this workshop, participants will receive a brief introduction to mindfulness and then engage in three different practices—deep listening, self-compassion, and guided meditation. After each one, we will reflect upon and share ideas for bringing these practices into our daily lives during trying times.
Sunday, October 18
1:00 pm—Beaufield Berry
"Writing the Past into the Present"
How to tackle history, fiction, character, and entertainment in a way relevant to today.
2:00 pm—John Price
"Writing Out the Pandemic"
Let's face it, this has been a tough stretch. The COVID-19 pandemic has led to millions of Americans experiencing unprecedented levels of grief, isolation, economic hardship and uncertainty about the future. In the midst of such difficult times, however, autobiographical writing can serve as an essential source of private catharsis and public witness. The individual voice, artfully rendered, can offer readers much-needed comfort, affirmation, and even laughter. At the very least, it can help the reader (and the writer) feel less alone. In this workshop, we will discuss a variety of approaches to writing out of our daily lives in this historical moment and into the lives of others, bringing us all a little closer together.
3:00 pm—Chigozie Obioma
"The Fiction Condition"
Can we understand fiction by understanding human nature? What can such knowledge, about the way we live and the way the world is fashioned help us understand the craft of fiction? For instance, the human eye can only maintain a single focus, and even though we can pick aspects of other side visions, we are often singularly concentrated. Can this natural logic of being help us understand issues of point of view or structure, for instance, in fiction? Or can it help us better understand the reasons why fiction is not most convincing when it is centered around a crowd, but must, in many ways, be about an individual?