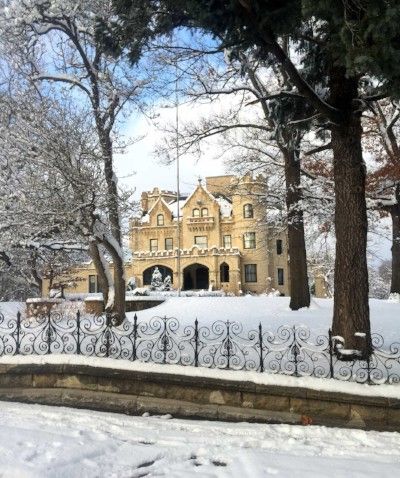 OUR MISSION: Joslyn Castle & Gardens preserves the legacy of George and Sarah Joslyn through stewardship of their historic home and by offering diverse, cultural programming that informs and inspires the community.
Joslyn Castle & Gardens serves as a physical reminder of the immense philanthropic legacies of its original residents, George and Sarah Joslyn.The Joslyns believed, "the possession of great wealth is a great trust and obligation." 
As stewards of their home and their legacies, Joslyn Castle & Gardens provides opportunities for our modern community to connect with our founders through historical, educational, and cultural programming for the community. Our programming calendar offers unique engagements with theater, art, history, nature, music, architecture, literary arts, and more. 
In addition to cultural programming, Joslyn Castle & Gardens offers regularly scheduled public tours, rental opportunities for private and business events, and a free public green space in the heart of Midtown Omaha.
We encourage you to learn more about where you live and stop in for a visit to Omaha's historic treasure soon!
We are located in the heart of Midtown at 3902 Davenport Street, Omaha, NE 68131.
Our administrative offices are located in the Castle greenhouse behind the main building, and are open Monday-Friday 9am-4:30pm (note: the Castle is only open to the public during scheduled tour times). 
Interested in touring Joslyn Castle? Check out our public tour times!