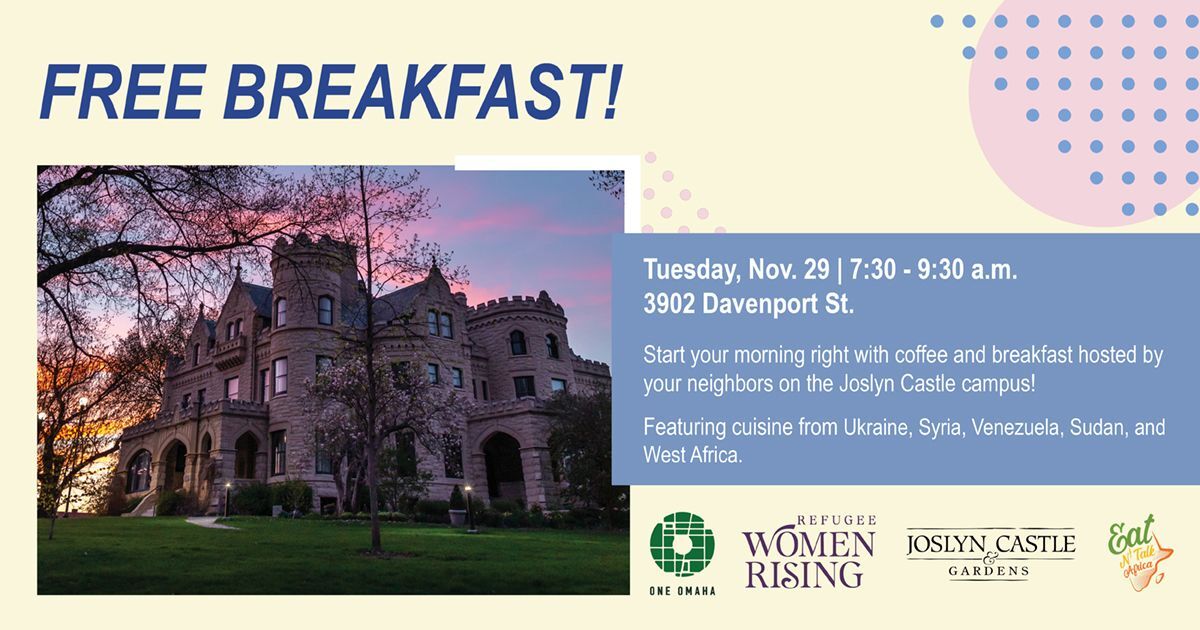 FOR IMMEDIATE RELEASE
Coffee & Community at the Castle Brings Together On-Campus Nonprofits
(Omaha, NE) - Four local nonprofits are welcoming the community to an open house on the Joslyn Castle campus from 7:30 - 9:30 a.m. on Tuesday, Nov. 29. One Omaha, Refugee Women Rising, Joslyn Castle & Gardens, and Eat N' Talk Africa are collaborating on this unique GivingTuesday event that pairs historic Omaha with culinary experiences from around the world.
Community members are invited to stop by the castle grounds 3902 Davenport St., Omaha, NE 68131 on their morning commute for free international breakfast items and coffee or tea. Participants of Eat N' Talk Africa's professional culinary training program—delivered in collaboration with Refugee Women Rising and No More Empty Pots—will prepare cuisines from their homelands: Sudan, South Sudan, Ukraine, Venezuela, Syria, and West Africa to share with the public.
Folks in a rush can grab a cup of joe on the go at a drive-thru coffee and breakfast station. Visitors should follow signage at Davenport and 39th Street for the drive-thru option.
For those with a little more time, docents will be on hand inside Joslyn Castle to provide tours and answer questions about the historic location. Representatives from all four nonprofit organizations will serve visitors throughout the morning, and are available for media interviews prior to and during the event.
One Omaha, Refugee Women Rising, Joslyn Castle & Gardens, and Eat N' Talk Africa look forward to engaging with friends and neighbors as we celebrate Omaha's charitable spirit on GivingTuesday. Donations to each organization can be made at https://joslyncastle.com/support/giving-tuesday.html or by following the QR code on your breakfast bag the morning of the event.
When: Tuesday, November 29 between 7:30 AM and 9:30 AM
Where: Joslyn Castle & Gardens, 3902 Davenport Street, Omaha, NE 68131 Why: Support local nonprofits while experiencing the culinary diversity and creativity that our newest neighbors bring
Additional information and contact details for each organization are listed below:
One Omaha empowers people where they live with education, training, and engagement to develop thriving neighborhoods. We believe residents have tremendous potential to take collective action to create solutions for common problems. By addressing the lack of capacity in neighborhoods and helping them gain greater control of their own future development, we equip residents and community-led groups to address neighborhood concerns and develop creative solutions. Contact: Noelle Blood-Anderson, Communications Manager, noelle@oneomaha.org or 402-305-3090.
Refugee Women Rising is a 501(c)(3) Nebraska nonprofit that collaborates with refugee and immigrant women to further themselves personally and professionally. Its practical driving education and culinary training and wellness programs promote equal access and independence, while respecting cultural values and the right to self-determination. Contact: Jo Phillips, 531-232-2167 or 402-218-7801 (cell) or admin@refugeewomenrising.org.
Eat N' Talk Africa is a Nebraska nonprofit that strives to improve the racial and social relationship between local communities by creating forums for education and intercultural exchanges on African culinary heritage. Through culinary training and food-based connection, Eat N' Talk Africa sparks meaningful conversations about food security, self-sufficiency, and diversity with a goal to build a more equitable, sustainable community. Contact: Jamil Bah-Traore, Executive Director, 402-212-7149 jamilbah@eatntalkafrica.org
Joslyn Castle & Gardens preserves the legacy of George and Sarah Joslyn through stewardship of their historic home and by offering diverse, cultural programming that informs and inspires the community. Our programming calendar offers unique engagements with theater, art, history, nature, music, architecture, literary arts, and more. In addition to cultural programming, Joslyn Castle & Gardens offers regularly scheduled public tours, rental opportunities for private and business events, and a free public green space in the heart of Midtown Omaha. Contact: Kelli Bello, Community Outreach Specialist, kbello@joslyncastle.com or 619-920-8010.