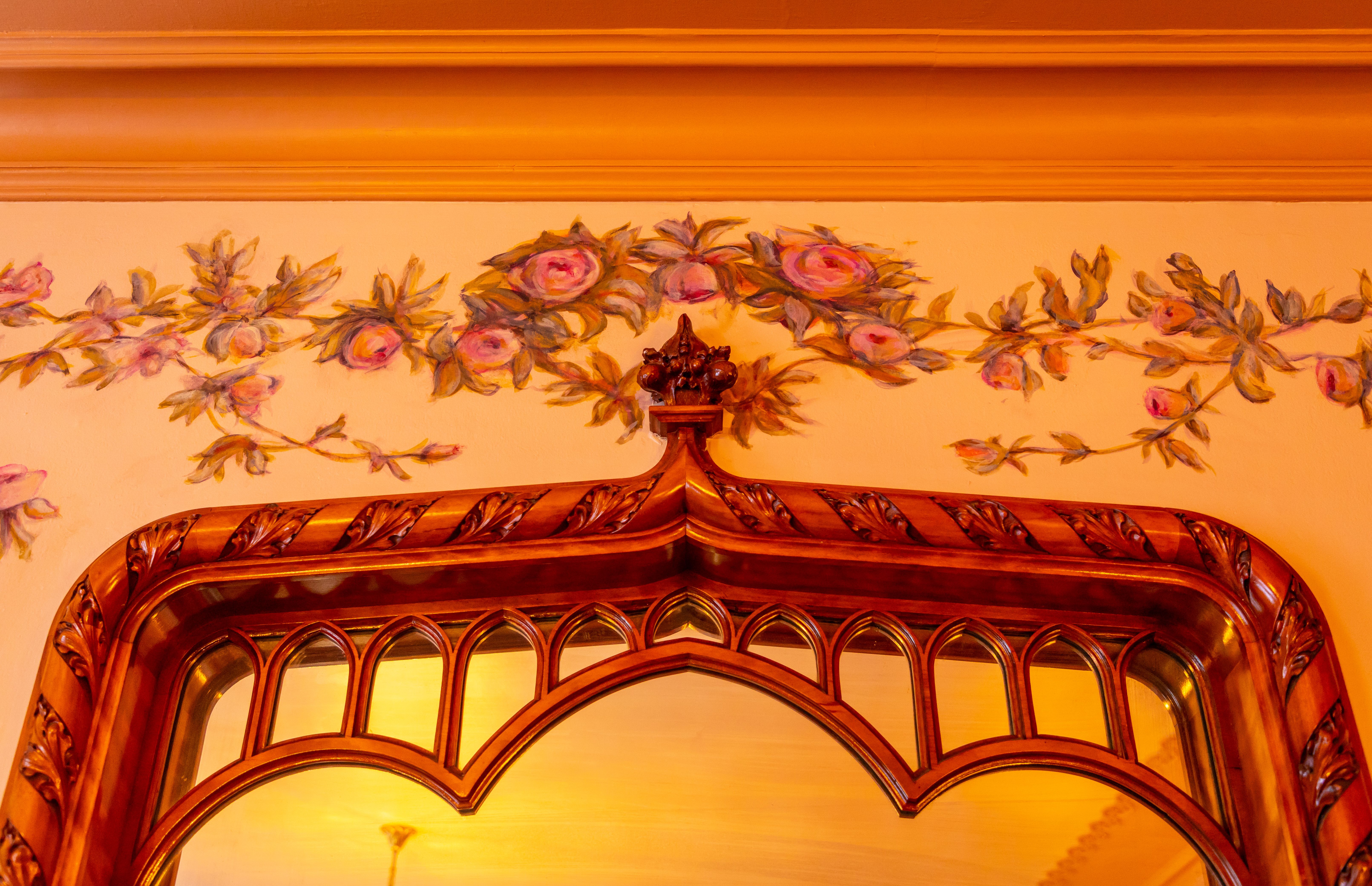 "We shape our buildings; thereafter, our buildings shape us." – Winston Churchill
This year has been transformative for the physical structures and grounds of the Joslyn Castle estate. From the large-scale projects (front steps), to the smaller fine-tuning (curtains), the Castle has not shined this brightly since George and Sarah called it home.
A major initiative of the Joslyn Castle Guild is to lead projects that lift the institutional shadows that still linger after Omaha Public Schools vacated the property in 1989. During a 45-year residency, the former family home served as a government office, where chrome fixtures and white walls reigned supreme. The recent efforts from the Guild include stripping away decades of stark white paint in the bedrooms and replacing it with rich turn-of-the-Century colors, hiding chrome electrical panels with beautifully framed mirrors and historical photos, and pulling up thin, grey carpeting to reveal original wood floors that now glow after some attention from an expert. Slowly but surely, the Joslyn Castle is feeling more like a family home again, and less like an office.
Not to be outshined by the Castle interior, the Joslyn Castle volunteer gardeners really rolled up their sleeves and dug in this year. A bold new vision saw many traditionally landscaped bed transformed into thriving native pollinator environments. Even the University of Nebraska took notice, acknowledging the Joslyn Castle as a Certified Pollinator Habitat. Our Castle arborist Phil Pierce saw an overgrown plot of earth on the northeast property line, and decided 2018 was the year to recreate the Joslyn's original fruit orchard, which stood in the same spot. We enjoyed our first little harvest this Fall.
After 115 years of greeting the Joslyns, Omaha Public Schools employees, and hundreds of thousands of visitors, the Castle's front steps and the Davenport Street entrance steps needed some serious love. Deteriorating treads, a cracked porch, and sagging knee walls were creating a hazard for pedestrians, and not to mention…it was not the most attractive welcome for visitors.  With generous funding from Douglas County's Visitor Improvement Fund, The Sherwood Foundation, and our Summer Fete guests who raised their paddles high, this increasingly worrisome issue was finally addressed. We are thrilled with the completed restoration and hope to get another 115 years out of these new steps!
Our momentum will not slow down as we welcome 2019. With a project dream sheet that's a mile long, the Joslyn Castle Trust promises to be steadfast stewards of your Castle. We hope you'll join us by donating your time, talent, or treasure in our mission!
2018 Completed Projects
Front Steps Restoration
Wood Floor Refinishing
New Chandeliers and Sconces
Servants' Staircase Plaster Work
Wood Refinished and Conditioning
Secretary Desk Recreation
Pollinator Habitats
Fruit Orchard
Sarah Joslyn Bedroom Floral Motif
New Oriental Carpets
Circassian Walnut Dining Set in Groom's Room
New Mirrors, Art, and Historic Photos