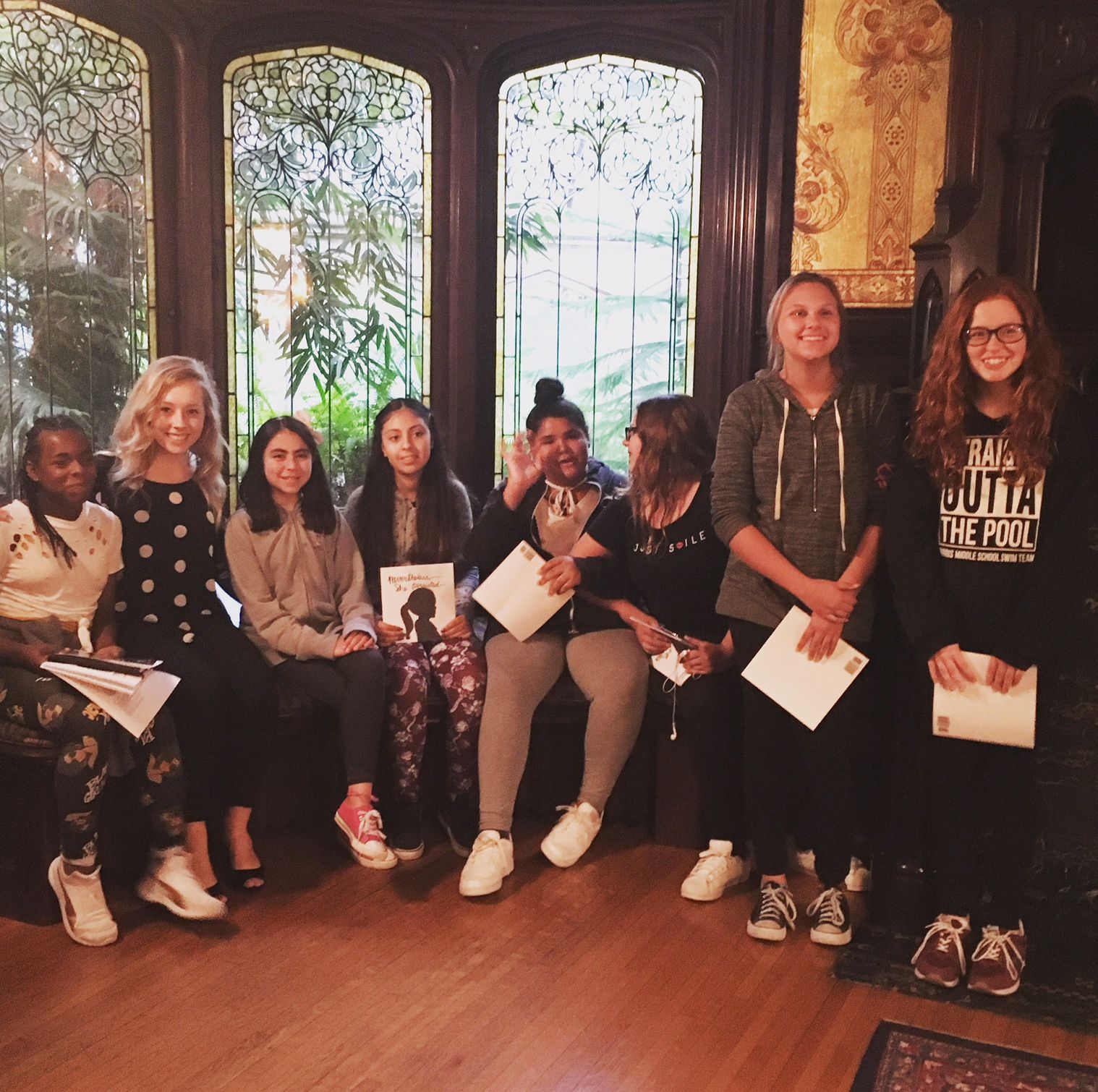 One of the most beloved traditions at the Joslyn Castle is our annual Art and Literary Festival. In 2017, we are celebrating another successful weeklong festival of literature, art, music, theatre and poetry within the Castle walls.
When the Joslyn Castle staff was brainstorming potential festival themes at the beginning of 2017, we kept coming back to the legacy of Sarah Joslyn herself. Who would she like to be celebrated in her home?
In her lifetime, Sarah Joslyn was a champion for her fellow woman. She was an early suffragist, advocating for women's right to vote and equal working conditions. She also had many female writers in her personal library and hung art from female artists on her walls.
As we reflected on Sarah's life, we decided to honor her legacy by celebrating women at the 2017 Art and Literary Festival. Specifically, we decided to celebrate Nebraska's women. With such an amazing talent pool to choose from, it wasn't difficult to gather the finest artists, poets, musicians, authors and thespians Nebraska had to offer.
The literary arts were well represented this year with poets and authors sharing and discussing their works. We kicked off the Festival with a poetry workshop led by Nebraska State Poet Twyla Hansen for high school students from Central High and Marian High. Other student events included a book reading and signing by 17-year-old author Taryn Smith, a senior at Millard South. Ms. Smith discussed her book Nevertheless, She Persisted with middle-school girls from Completely Kids' afterschool program. After asking Taryn questions about writing and her inspirations, each girl received a signed copy of the book to take home.
We also featured a discussion led by local author Eileen Wirth about Nebraska's women in journalism, which was told with many personal stories from her time in the Omaha World-Herald newsroom. Attorney and writer Sally Bisson-Best regaled history lovers with tales of Doris Stevens of Omaha, a little-known leader in the suffragist movement. The Omaha Public Library hosted a book club featuring author Barbara Eymann Mohrman, sharing her book Four Blue Stars in the Window.
Music was a huge part of Sarah and George Joslyn's life, and we were excited to feature local musical talent once again in their home. Anne Nagosky, who performs with the Omaha Symphony, led a performance of her violin and viola students ranging in age from 5-17 years-old. A packed audience consisting primarily of proud parents and grandparents packed the library to see their little virtuosos perform in such a historic, unique space.
A new partnership with Benson Femme Fest had the Castle's Music Room rocking! Local singer/songwriters and bands featuring female leads performed a wide variety of genres and styles throughout the Festival. The music culminated in an evening entirely dedicated to local musicians, "A Showcase of Women Who Rock". Local performers included Edem Soul Music, All Young Girls Are Machine Guns, Nat Budz, and many more.
We were honored to feature Nebraska Shakespeare's "Juno's Swans", an all-female performance group, who remounted scenes from their popular Richard 3, after completing a successful run at the Blue Barn Theatre. After the performance, the cast led a discussion with audience members about gender roles and identity in Shakespeare's works.
Providing the backdrop to all this amazing literary art, music, and theatre were fantastic artworks displayed throughout the Castle. In the ballroom, two exhibits were available to Festival patrons, both exclusively featuring female-created works. Local Omaha native Judith Welk displayed a collection of her pieces inspired by her home: the historic Dundee neighborhood.
Also in the ballroom was a collection carefully curated by the Museum of Nebraska Art (MONA). Artworks from female artists spanned centuries and many mediums. Visitors enjoyed traditional portraiture, mosaic works, and mixed media pieces created by women from across the state.
The Joslyn Castle was very excited to partner with The Union for Contemporary Art for the first time at the Festival. The Union and little girls ranging in age from 8-12 years-old from Girls, Inc., created a stunning collaborative textile mural in the style of Lincoln's Nancy Friedemann Sanchez. The mural contained screen prints from vintage textiles and words of literary inspiration throughout. It looked fantastic hanging in the Gold Room for the duration of the Festival.
Thank you to our many community partners and volunteers for offering their time and talents to create impactful, important programming. Of course, a festival of this magnitude cannot happen without the support of our local arts champions. A special thank you to our sponsors Humanities Nebraska, the Nebraska Arts Council, The Giger Foundation and members of the Joslyn Castle board of directors for providing financial support for the Festival.
As always, our goal was to honor the legacies of George and Sarah Joslyn and their belief that whether you wore overalls or a suit and tie, everyone deserves access to culture and arts.