Historic Mansion Traveling Dinner Party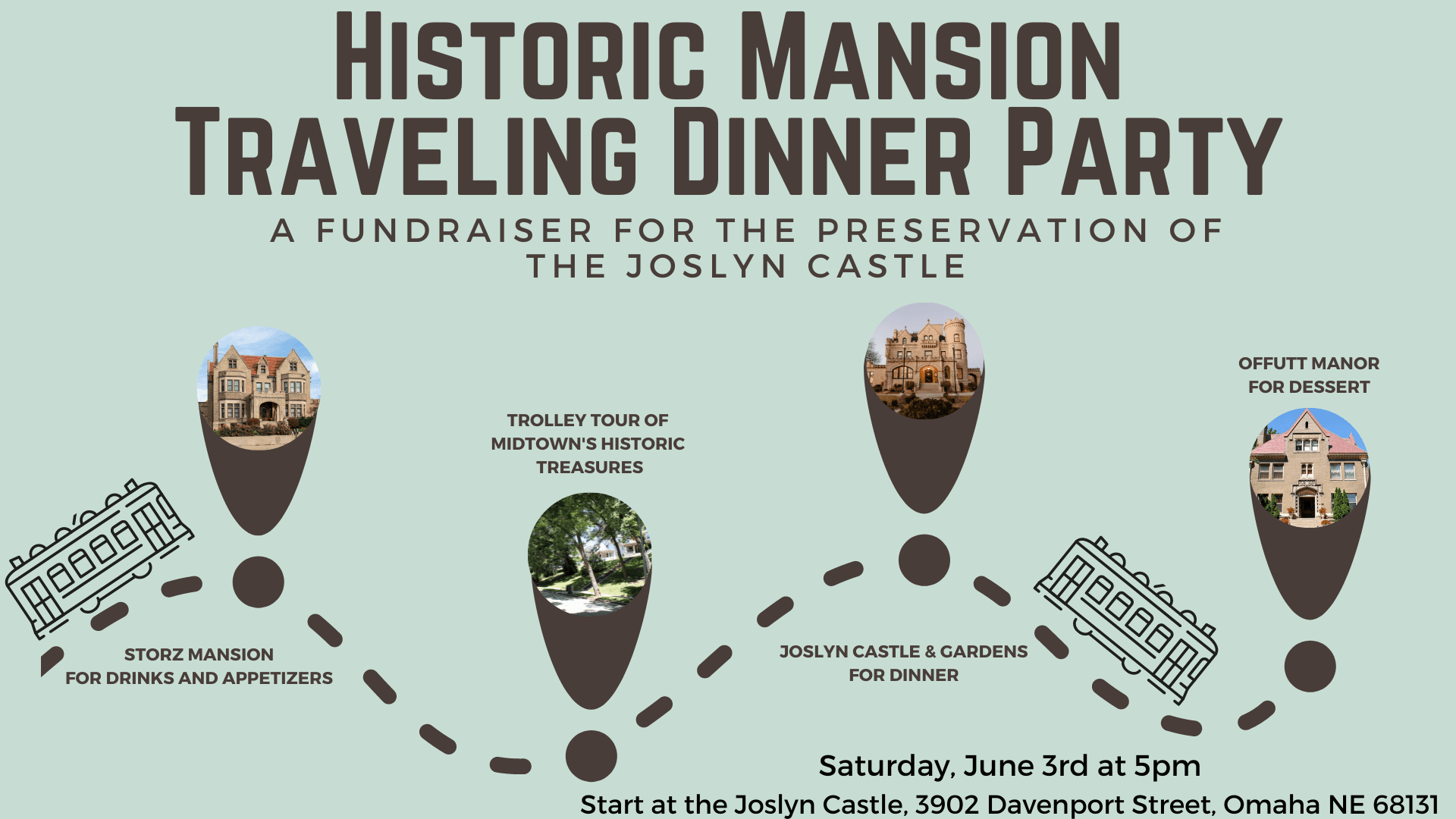 All aboard Ollie the Trolley, as we embark on a "Moveable Feast" hosted in a collection of the most stunning historic mansions in Omaha!
The Historic Mansion Traveling Dinner Party invites you to experience the finer side of life as we explore Omaha's rich architectural legacy through the courses of a curated menu.
We'll gather at the Castle and begin our journey aboard Ollie the Trolley. First stop is the Gottlieb Storz House, built by the founder of the Storz Brewing Company in 1905. Here we'll imbibe and nosh while homeowners Wayne and Rhonda Stuberg offer a rare tour of the private mansion.
Next, we'll set out for a brief guided trolley tour of the historic mansions of Midtown Omaha, including the Gold Coast and Bemis Park neighborhoods.
Now onto the main course: we'll arrive to a catered meal beautifully presented inside the Joslyn Castle, home of philanthropists George and Sarah Joslyn and built in 1903. You'll get a rare opportunity to dine as the Joslyns did in their magnificent home. Guests are invited to choose between slow braised beef short ribs or sage pesto chicken.
We'll conclude our adventure together with a brief evening constitution, as we make our way to the Offutt Manor located just across the way from the Castle. The Offutt Manor was built in 1894 by Casper and Anna Yost and today serves as a charming boutique hotel. The Offutt Manor will host desserts and after-dinner drinks in it's stunning quarters.
• 5 pm – guests arrive – park in Joslyn Castle's parking lot
• 5:15 pm --Ollie the Trolley transports guests to the Storz Mansion
• 5:30 pm to 6:30 pm – Appetizers and specialty drink
• 6:30 pm – guests board the Trolley and embark on a 20 minute tour of Historic Midtown Mansions
• 7:15 pm – Dinner served at Joslyn Castle. Bar will be available.
• 8:30 pm – Walk to Offutt Manor for desserts and after dinner drinks
This form stopped accepting submissions on June 3, 2023 5:00 pm CDT.