Garden Lecture Series
Tuesdays in April, 6:00PM-7:00PM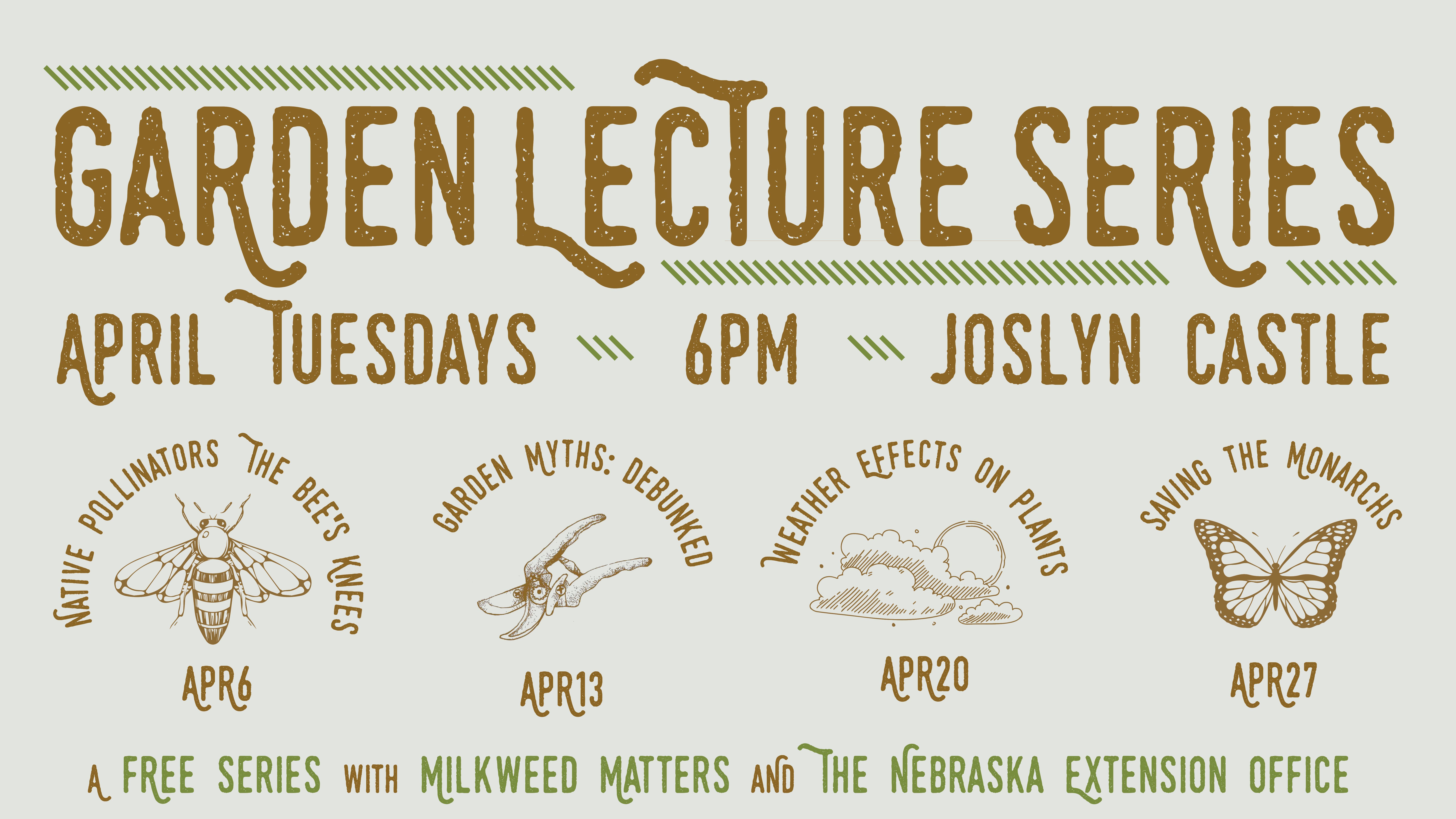 Native Pollinators: The Bee's Knees
Tuesday, April 6 – Dr. Jody Green – Nebraska Extension Office
For this lecture, Jody will introduce you to some overlooked pollinators, which include native and solitary bees. She will open your eyes and hearts to the world of bees that may nest and forage in your backyard. Learn how you to attract, identify, appreciate, conserve, and protect these truly special insects.
Jody Green is an Extension educator with Nebraska Extension in Douglas-Sarpy Counties. She holds a doctorate in entomology from Purdue, where she studied termites through graduate school. Jody works in the community, delivering insect-related information through presentations, Extension blogs, newsletters, radio, social media outlets like Twitter (@JodyBugsMeUNL) and Facebook, local news media, NET's "Backyard Farmer", and cohosts a podcast called "Arthro-pod".
Garden Myths: Debunked!
Tuesday, April 13 – John Porter – Nebraska Extension Office
Are those old wives tales your grandmother taught you about gardening true? How about all that information (or misinformation) making its way around social media in the form of memes? Gardening expert John Porter will dissect some of those old and modern myths and get at the heart of what really makes your garden grow.
Weather Effects on Plants
Tuesday, April 20 – Scott Risch – Nebraska Extension Office
The talk will cover various weather effects such as frost, microclimates and other weather phenomena affecting our gardens and landscapes.
Scott Risch was born and raised on a 60 acre fruit farm in Southwest Lower Michigan. Graduated from St Louis University with a BS in Meteorology. Air Force meteorologist for twenty years, retiring in 1992. While on active duty completed a MS in Meteorology and Climatology from the Naval Post Graduate School. Served as a weather forecaster and commanded several weather units with assignments from Europe to Asia. Joined the private sector following retirement working on weather projects for Raytheon Company in Omaha. Performed test engineer duties testing weather software. Became Program Manager for the Advanced Weather Interactive Processing System Upgrade used by over 144 National Weather Service sites across the United States and Guam and Puerto Rico. Retired from Raytheon in 2016. Currently retired, returned to his roots and became a Master Gardener in 2016.
Saving the Monarchs and other Pollinators
Tuesday, April 27 – Nancy Crews & Nancy Scott – Milkweed Matters
We will talk about the decline of pollinators with emphasis on the Monarch butterfly as a flagship species. We will describe the Monarch's amazing life cycle and epic migration. We will suggest and describe specific ways we can all help monarch butterflies and other pollinators by creating native habitat in our own backyards. Plant it and they will come!
Nancy Crews and Nancy Scott are on a mission to help pollinators. Combined they have over 80 years of horticulture and gardening experience and are both Master Gardeners. They are passionate about protecting and restoring habitat for pollinators with an emphasis on the Monarch butterfly.
Nancy Crews is a retired Naval officer, avid gardener, nature lover and lifelong environmentalist. She is the Director of the nonprofit Milkweed Matters, whose mission is to restore native pollinator habitat along the roadsides and in community pollinator gardens. Milkweed Matters has been in existence since 2013 and has engaged with the community to make over 164,000 milkweed seedballs in that were tossed along the roadside during large scale bicycle rides like RAGBRAI.
Nancy Scott is a talented artist, avid nature photographer and lifelong environmentalist. She Illustrated the book, Woody Plants for the Central and Northern Prairies by Richard Sutton and Walter Thaine Bagley (2000), and is a Board member for Prairie Pines Nature Preserve, and Green Bellevue.
The Nancys are a dynamic team and over the last 5 years have been involved in education, outreach and habitat restoration for pollinators with emphasis on the monarch butterfly. They have traveled to Mexico to see the monarch butterflies in their winter habitat three times. They established an international exchange program with students in Mexico and the United States focused on monarch conservation. They co-authored a bilingual children's book in 2019 entitled, "Saving the Monarchs" that tells the story of the threatened monarch butterfly, why they are endangered and what we can do to help them.
Since 2016, the Nancy's have made over 50,000 milkweed and native nectar flower seedballs with local schools, church groups, scouts, garden clubs, senior homes and other groups.