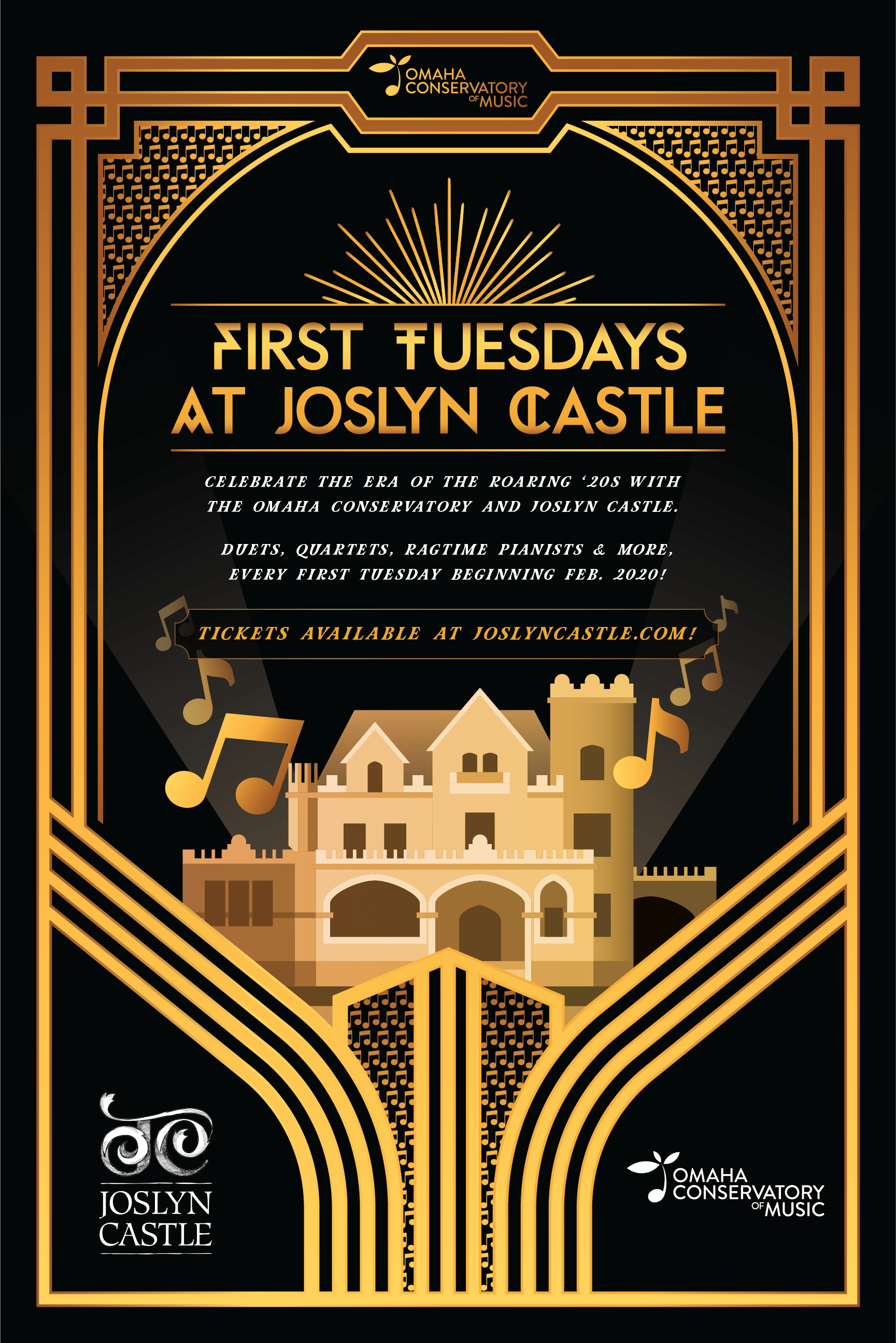 First Tuesdays at the Joslyn Castle with Omaha Conservatory of Music
The Gilded Age Returns!
---
Series sponsored by Richard and Mary Parrish.
The roarin' 20s are back and better than ever!
Starting February 2020, the sights and sounds of the 1920s come roaring back to life! Joslyn Castle has partnered with the Omaha Conservatory of Music to bring you '20s-inspired duets, string quartets, ragtime piano performances and more.
Each performance will be hosted in the gorgeous, and historically appropriate, Joslyn Castle Music Room every First Tuesday beginning in February. This is the very room the Joslyns' hosted live music for the community in their day and we are thrilled to honor their passion for the arts once again.
Reservations run $30 and are available by clicking the individual event registration link below.
Featuring music from Gershwin to Joplin to Rachmaninoff and beyond, each performance will encapsulate the excitement of the era. You won't want to miss it!
---
All performances start at 7pm, doors open at 6:30pm. There will be an intermission at each performance and a cash bar available. 
February 4: Make 'Em Laugh
Tonight's performance is brought to us by Security National Bank.
Performers: Anne Madison (piano) & Cody Jorgensen (voice - baritone)
Voice and piano duo exploring the more amusing side of music! From delightful musical theater songs to understatedly comedic classical journeys, Anne and Cody will delight with rarely performed playful music in a salon concert setting. 
 
March 3: Tell it to Steinway
Performers: Stacey Barelos, DMA (piano), Vu Che (piano), Yulia Kalashnikova (piano)
Conservatory pianists will bring you the sounds of the era - classical, jazz, and ragtime! From Scott Joplin to George Gershiwin, Omaha Conservatory of Music's Artist-Faculty will share what was cutting edge and creative leading to the 1920s. No player pianos necessary at this event!
 
April 7: The French Connection
Performers: Kevin Tompkins (violin), Melissa Tatreau Holtmeier (violin), Jesse Griggs (viola), Tim Strang (cello)
Omaha Conservatory of Music presents a string quartet traveling through the music of the 1920s and earlier. During a pivotal time when music was exploring atonal ideas and the birth of jazz, this era had a little something to captivate everyone. This performance will connect jazz ragtime and French culture with themes of Gershwin inspired by Debussy.  
 
May 5: Postmodern Playlist
Tonight's performance is brought to us by Jim and Susan Tracy.
Performers: Andrew Stickman (guitar), Kevin Sullivan (guitar), Steve Busteed (bass), Karina Brazas (soprano), Rachel Griggs (soprano), Cody Jorgensen (baritone), Ian Rode (trumpet), Kenneth Meints (trombone/brass), Mark Benson (saxophone/winds)
A house band and vocalists experimenting with today's pop music performed in a 1920's way. Watch as the band takes songs from today's radio waves and transports them back to the beautiful sounds of yesteryear. 
This form stopped accepting submissions on March 3, 2020 12:00 pm CST.
This form stopped accepting submissions on April 3, 2020 6:30 pm CDT.
This form stopped accepting submissions on May 1, 2020 6:30 pm CDT.