This Old Castle: Brick and Mortar - The Building Blocks of Maintenance and Restoration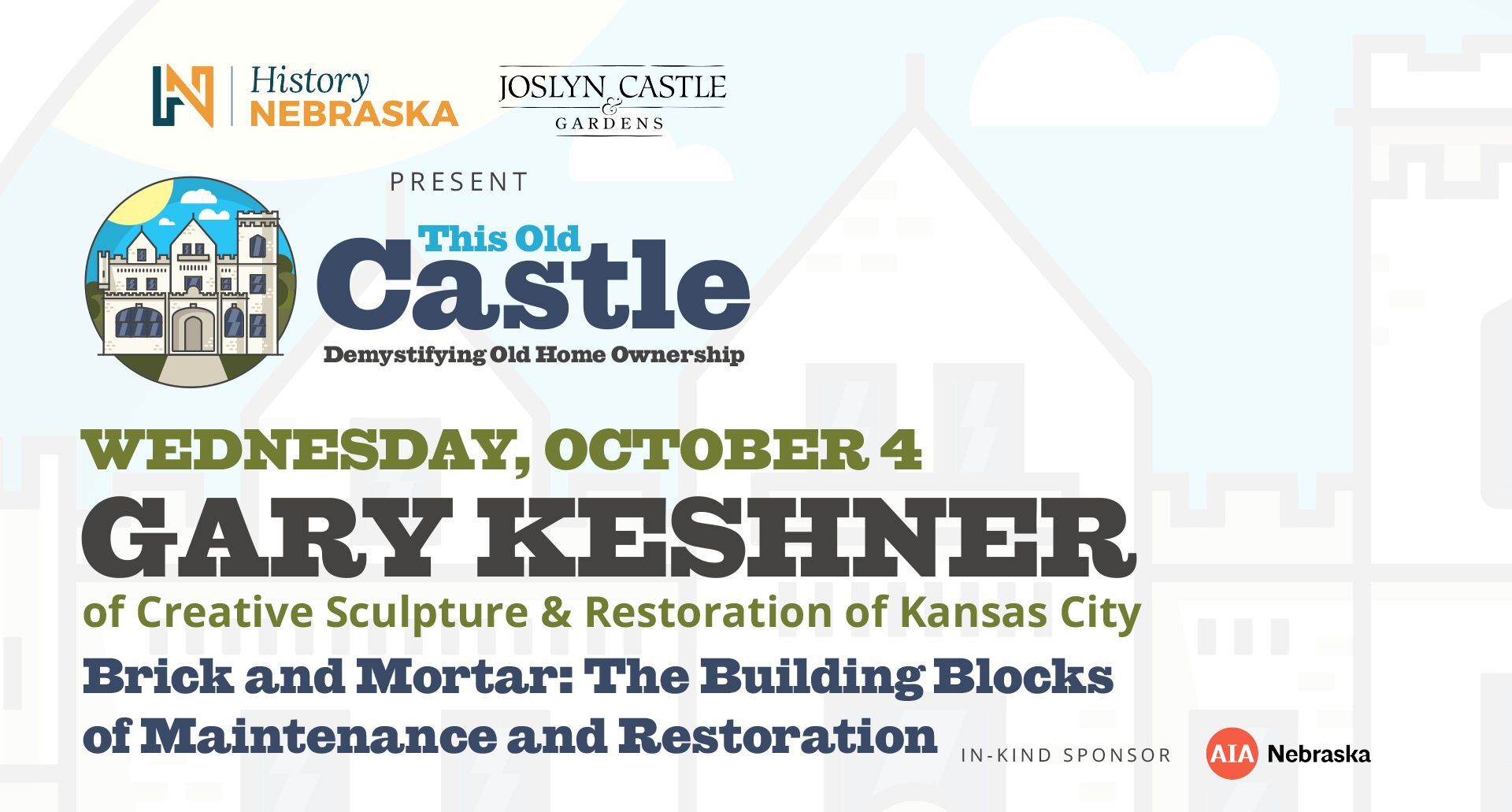 Old home ownership is not for the faint of heart (trust us, we know!), but we're here to help!
We've teamed up with our friends at History Nebraska to bring you a series designed to demystify maintaining and preserving your old home or building. We're calling it This Old Castle, and you're invited to learn alongside us from the best experts in town.
For the October installment of This Old Castle, we welcome Gary Keshner, owner of Creative Sculpture and Restoration out of Kansas City. Gary will introduce attendees to the benefits of, and best practices for, the maintenance, repair, and restoration your masonry. Use of incompatible or overly aggressive maintenance and repair methods can damage rather than improve masonry. Attendees will learn why and how to specify appropriate repair and maintenance materials and methods for brick and stone substrates. Gary is an experienced mason who will reference numerous products and projects as examples.
About our speaker:
Gary Keshner has been in the masonry restoration business for over 30 years, and has represented Cathedral Stone Products for the last 12 years. Gary received his B.F.A. from the Kansas City Art Institute in 1977, and began his own company, Creative Sculpture & Restoration, in 1983, specializing in preserving and restoring historical stonework. Over the past years, growth and knowledge of techniques and products, both old and new, have allowed the company to prosper. Supporting Cathedral Stone Products, being expertly trained and experienced with the latest masonry restoration systems, while embracing and using environmentally-safe masonry restoration preservation products has been crucial for Gary and his company's growth. He consults on projects with contractors, talks with architects about products for specification, and works diligently to provide the best work product for preserving historic stonework.
Architects: Tonight's presentation is eligible for 1 AIA HSW CEU credit. AIA Nebraska is our in-kind partner on This Old Castle!
Real Estate Agents: Tonight's presentation is eligible for Nebraska Real Estate Commission CE credits.
(Relevant documentation will be available at check-in).