This Old Castle: Off the Wall - Preserving Your Plaster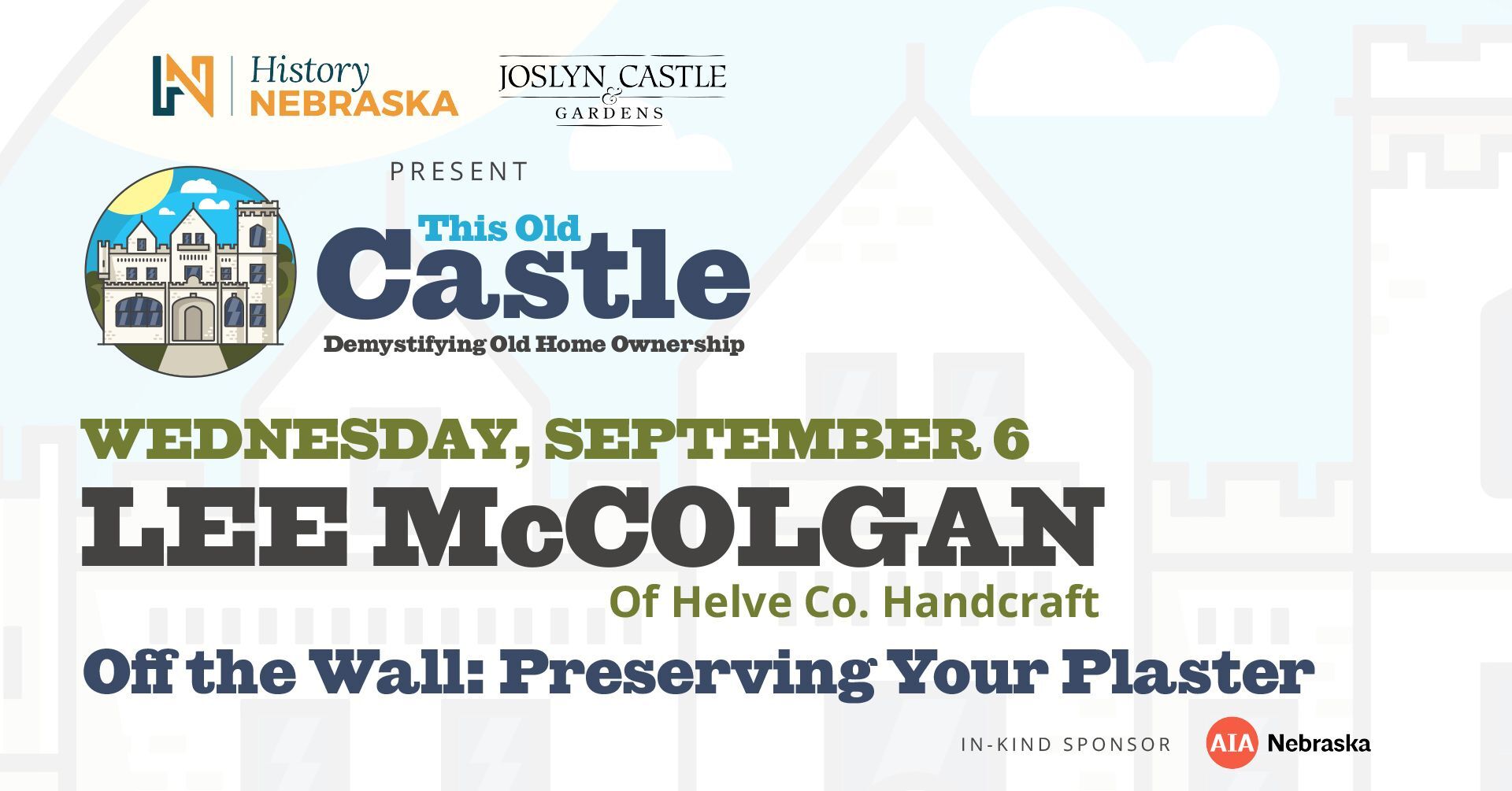 Old home ownership is not for the faint of heart (trust us, we know!), but we're here to help!
We've teamed up with our friends at History Nebraska to bring you a series designed to demystify maintaining and preserving your old home or building. We're calling it This Old Castle, and you're invited to learn alongside us from the best experts in town. This series is presented with the in-kind support of AIA Nebraska.
In addition to interactive presentations from the experts, attendees will be the first to learn about (and see) the major restoration projects happening inside the Joslyn Castle.
For the September installment of This Old Castle, Lee McColgan will introduce attendees to the benefits of, and best practices for, the maintenance, repair, and restoration of historic plaster finishes. Attendees will be able to describe the different types of plaster back-up and coating systems and which are most used in late nineteenth and early twentieth century, as well as the differences between lime and gypsum plaster (plaster of paris) and the appropriate applications for each. This installment will include a demonstration from Lee inside the Castle!
About our speaker:
Lee McColgan, owner of Helve Co. Handcraft, is a craftsman, writer, artist, and aspiring gentleman farmer. His childhood was full of exploring the Green Mountains of Vermont, constructing crude structures in the woods, damming streams to make swimming holes, and building bonfires.
After college, the responsibilities of adult life took me on a detour into financial sales in Omaha where he lived in a historic home in the Dundee neighborhood. After a little more than a decade, he felt the pull back to craft. And thus, Helve Co. was born.
At Helve Co., he restores historic buildings using traditional materials and methods used in original construction. He also makes and sells custom furniture and tools inspired by the work of earlier artisans.
Most days you'll find Lee in his workshop on his horse farm on the South Shore of Massachusetts, where he currently resides with his wife Liz. Follow his preservation work on Instagram at @helvehistorictrades.
Notes:
Architects: This presentation is eligible for 1 AIA HSW CEU credit.
Real Estate Agents: Tonight's presentation is eligible for Nebraska Real Estate Commission CE credits.
(Relevant documentation will be available at check-in).