Winter Chamber Music Series: Bel Canto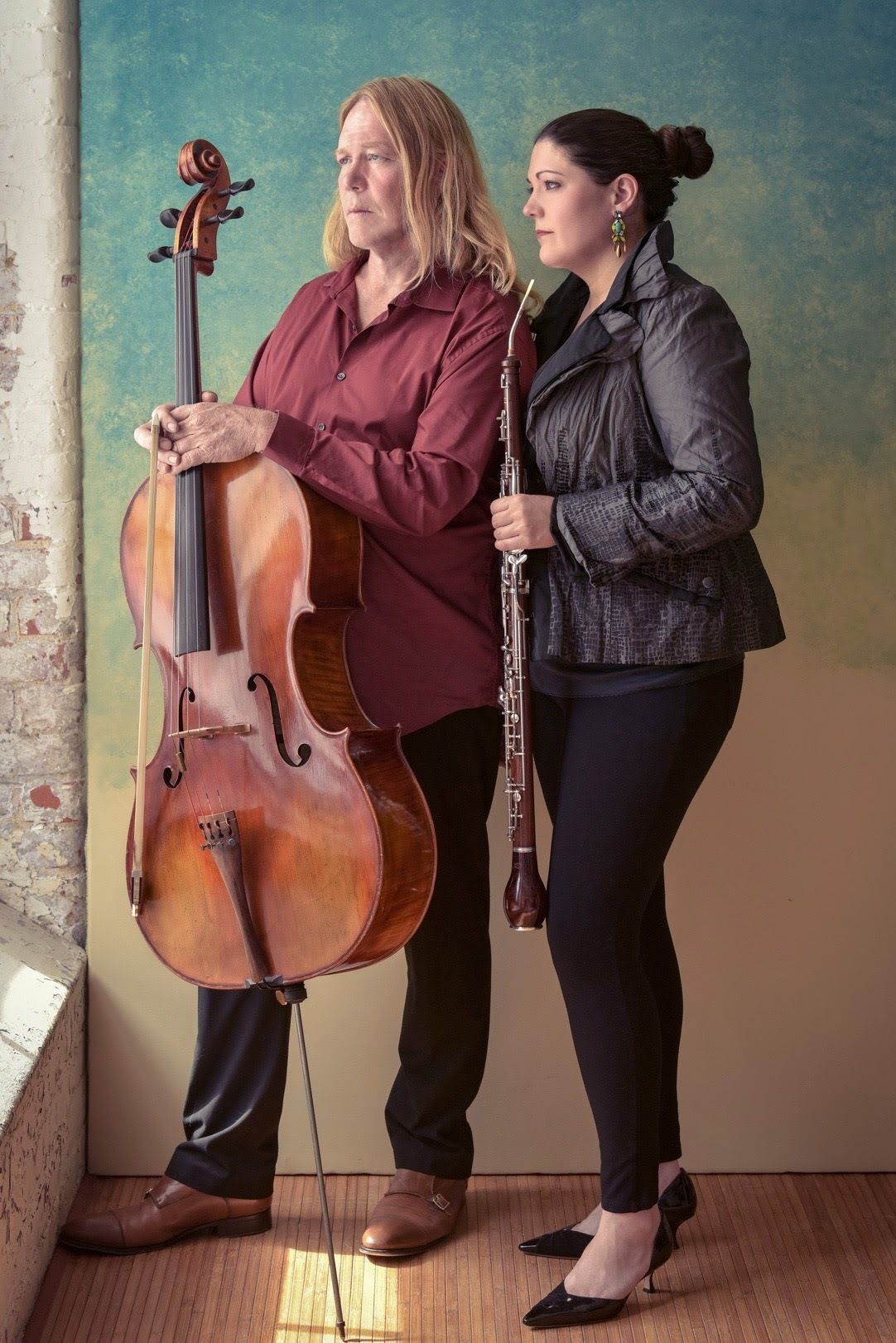 A three-part series of intimate performances in the Joslyn Castle music room, featuring three contrasting musical ensembles. The term "chamber music" implies that it was written for and intended to be performed in intimate residential chambers, and the Joslyn Castle music room is the perfect setting for such an experience. The room was added to the residence of George and Sarah Joslyn in 1907 and designed to accommodate an Aeolian pipe organ and a grand piano. The room was used for many organ recitals by notable organists of the period before the organ was finally removed in 1931. Today Joslyn Castle & Gardens continues the Joslyn tradition with a variety of musical performances in this beautiful space.
Each event will be a ticketed performance, open to the general public.
Bel Canto - February 17
The Omaha duo of Darci Griffith Gamerl and David Downing present the February installment of the series. They will present a program of transcriptions for cello and oboe/English horn. Their performance will also include educational components, as they demonstrate the capabilities of their instruments and share the challenges of creating repertoire for their unique combination.
About our artists:
Lifelines collide...the evening of a shooting star, and not just any shooting star - one of amazing duration! That evening changed the course of both our lives. The duo has built a life together, and a chamber ensemble dedicated to creating exquisite performances for a variety of audiences.
The Bel Canto Duo was founded in 2016 by Darci Griffith Gamerl (oboe/English horn) and Grammy-nominated cellist, David Downing.
The duo provides a rich tapestry of sound, with a variety of selections that feature us as soloist artists, an as a duo. Our music features a wide variety of selections from original works, and arrangements of traditional classical compositions works adapted from film, broadway and opera. They perform for a variety of audiences and venues from their annual Summer Driveway Concert Series to museums, art galleries, weddings, and formal concert & recital series. The Duo's recent collaborative work, Sacred Waters was commissioned for an immersive video installation titled, 'Nebraska: Flatwater' - an immersive video installation exploring the natural beauty of the state throughout the seasons.
Bel Canto's mission is to facilitate community and connection by offering performances to the marginalized, at-risk, and underserved.
Omaha based oboist Darci Gamerl performs with orchestras throughout the Midwest and Canada. Her tenured positions include Assistant Principal/2nd Oboe with the Duluth-Superior Symphony Orchestra, solo English horn with the Lincoln Symphony Orchestra, and the South Dakota Symphony Orchestra. She performs regularly as a soloist with the Omaha Chamber Music Society, Temple Israel, Sing Omaha, the Vesper Concert Series, Music St. Croix (Stillwate, MN), the Archdiocese of Omaha, Temple Israel, and the Heartland Philharmonic.
A versatile musician, Ms. Gamerl performs for national touring opera and broadway productions such as: Moise et Pharaon, La Boheme, Turandot, La cambiale di matrimonio, Il Trovatore, Carmen, Don Giovanni, The Marriage of Figaro, Wicked, Big Fish, Little Women, Beauty and the Beast, The Sound of Music, The King and I, Fiddler on the Roof, The Secret Garden, and Aladdin.
As part of her commitment to young artists, Ms. Gamerl performed the Music of Menkin, and We Tell the Story: A Celebration of the works of Ahrens & Flaherty for the International Thespian Conference in Lincoln, NE. Ms. Gamerl has also performed with major acts such as Johnny Mathis, Mannheim Steamroller, Weird Al Yankovic, Amy Grant & Michael W. Smith, and a number of other national musical acts.
A passionate educator, Ms. Gamerl serves as artist faculty at the University of Nebraska Omaha, Creighton University and College of St. Mary. In addition to an active performing career, she continues to maintain a highly successful private studio with former students winning jobs with Chicago Symphony, South Bend Symphony, the Fayetteville Symphony, Chicago Civic Orchestra, and US National Guard Band.
Ms. Gamerl's past pursuits include custom playlist curation as Music Director & on-air talent at Classical 90.7 KVNO. Other work includes marketing, voice talent, composition, music production, web site design and social media coordinaton. Ms. Gamerl presents recitals and masterclasses focus on creative entrepreneurship, music business, performance, healing modalities in music, and the essential elements for a successful career the arts.
David Downing, a classically trained cellist, studied at the Interlochen Arts Academy, the Harid Conservatory of Music and the Cleveland Institute of Music. After extensive studies, David walked away from the classical orchestra world - and the cello. Thanks to loving and supportive family, and friends, and his passion for creating music, David started performing again, and never looked back.
Downing's work spans a number of styles from world to folk, bluegrass, and hip-hop. As a recording artist, David has worked with Nas, Little Brazil, Flowers Forever, as well as Omaha-based Americana band, Ragged Company, recording several albums. David's work has also been featured on NET's The Nature of Stories, and in several other film productions.