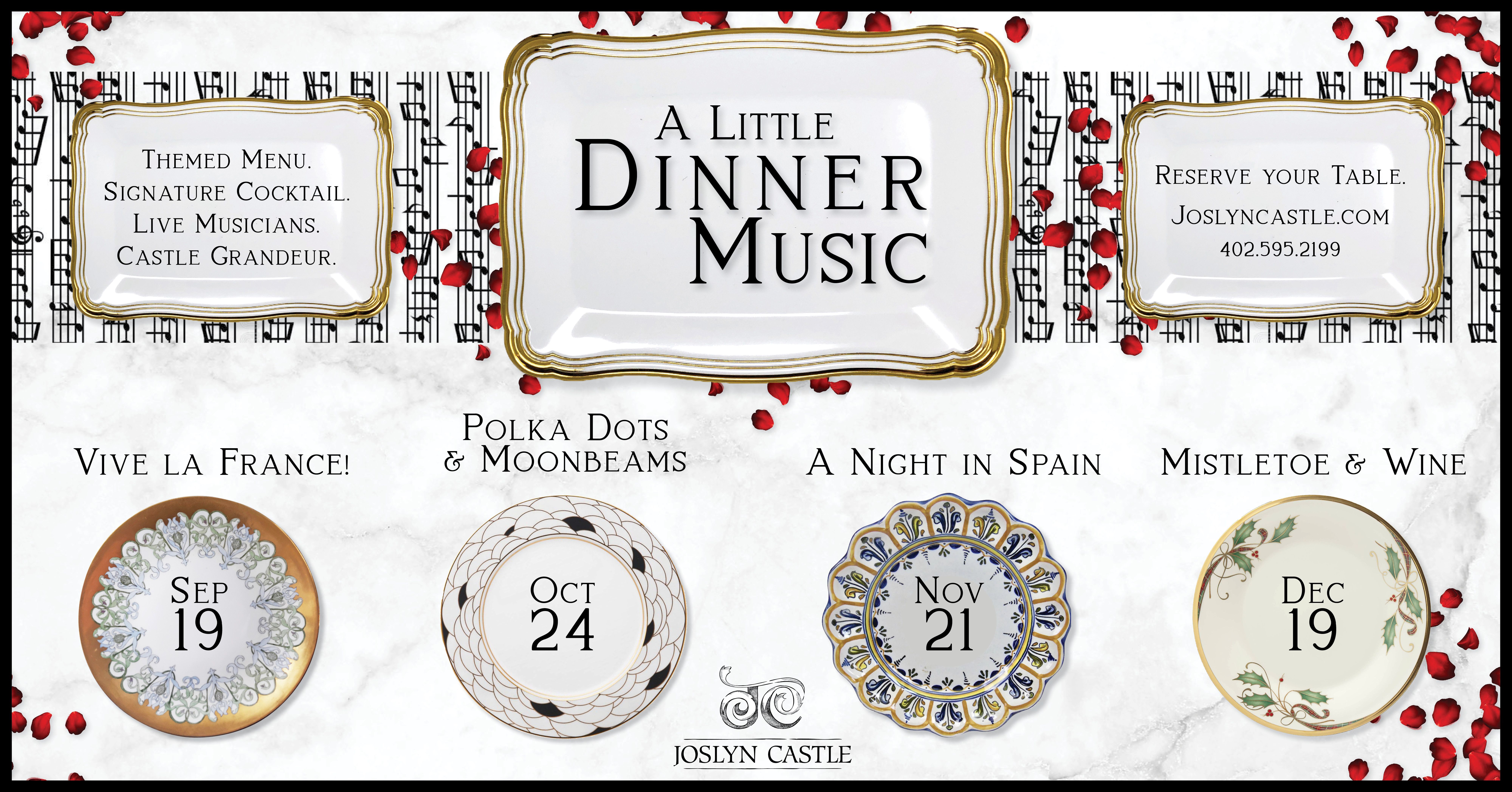 Announcing a very special dinner series at Joslyn Castle—
A Little Dinner Music combines fine dining with fine music—performed live! Enjoy an intimate dinner—appropriately and safely distanced from other guests—in one of the elegant rooms of Joslyn Castle. Your special night out will be accompanied by musicians performing from the central hall. Accommodations are available for parties of 2 to 12.
---

Saturday, September 19 – Vive la France!
Treat yourself to an evening of elegance—French cuisine and wine in a charming setting, accompanied by French music! Violinist Yaroslav Tereshchenko and violist Anna Antropova will serenade you with selections ranging from the French Baroque to La Vie en Rose. Bon appétit!
This form stopped accepting submissions on September 19, 2020 7:30 pm CDT.
---

Saturday, October 24 – Polka Dots and Moonbeams
Step back in time to a classic 1940s lounge. Saxophonist Stan Harper and bassist Steve Gomez serve up all your favorite standards while you enjoy a menu of vintage American fare.
---

Saturday, November 21 – A Night in Spain
Una noche Española! Let the flavors of Spain awaken your taste buds while the music of Spain intoxicates your ears. Oboist/English hornist Darci Griffith Gamerl and cellist David Downing will take you away with the exotic sounds of Spanish, Mexican, South American, and Roma music.
---

Saturday, December 19 –Mistletoe and Wine
Enjoy a little holiday cheer at the Castle! The halls will be decked, the fireplace aglow, and the Christmas feast prepared just for you. Keyboardist Jennifer Novak-Haar and bassist Mark Haar complete the atmosphere with all your favorite holiday tunes.