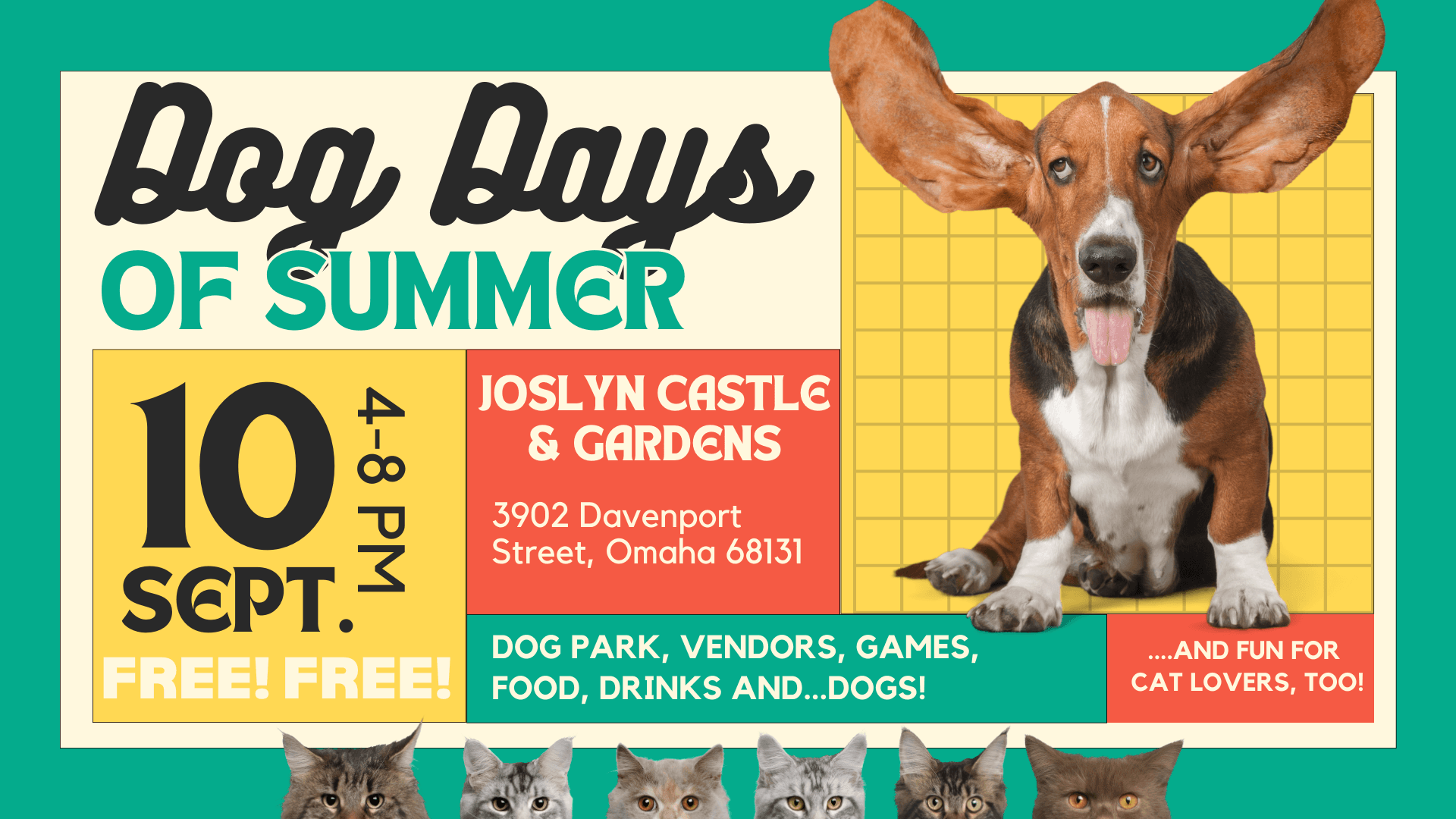 Join us at Joslyn Castle & Gardens as we celebrate our furry besties!
Dog Days of Summer ....& Cats in the Castle!
Sunday, September 10th: 4 – 8 pm
The gardens of the Castle will transform into a wonderland for man's best friend and the humans who love them! Inside the Castle, the cat lovers are invited to participate in a game we call "Cats in the Castle."
Plus, a dog park area with separate spots for small dogs and large dogs!
We are thrilled to welcome the following vendors:
Super Scooper
James Burden - Dog trainer
Wag – Grooming
Lone Tree Vet Clinic
Muddy Paws with adoptable dogs
Felius Cat Café
Doggurt
Nebraska Humane Society
Wag n' Train small dog rescue
Domesti-Pups – therapy and service dog information
Heavenly Body Bakery – Gluten-free treats for humans
Jax and Josie Smoked Jerky
Our friends at Cali Commons will also be hosting a pet-themed art show in their gallery!
Owners can indulge in three local food trucks and an outdoor bar.
AND if you are a cat lover, you will want to participate in the Cats in the Castle game. For a small fee, guests will be admitted into the Castle to search for cat "cut-outs." Each cut-out will contain a QR code with information about the cat. Group size will be limited to 50 at a time. For those who find all the "cat cut-outs" will be eligible for a free hour at Felius Cat Café. Visit the "Cats in the Castle" booth to sign up for the game. Cats in the Castle is a game for humans - there will be no LIVE cats on the loose in the Castle (although that sounds fun). Please leave your kitties at home.
This is an all-ages, family friendly event offered FREE to the community. WELL BEHAVED AND LEASHED dogs are welcome to attend. Please plan on cleaning up after your pet while in the gardens!
Donations to the Castle are appreciated.