This Old Castle: The Preservation and Restoration of Your Wooden Doors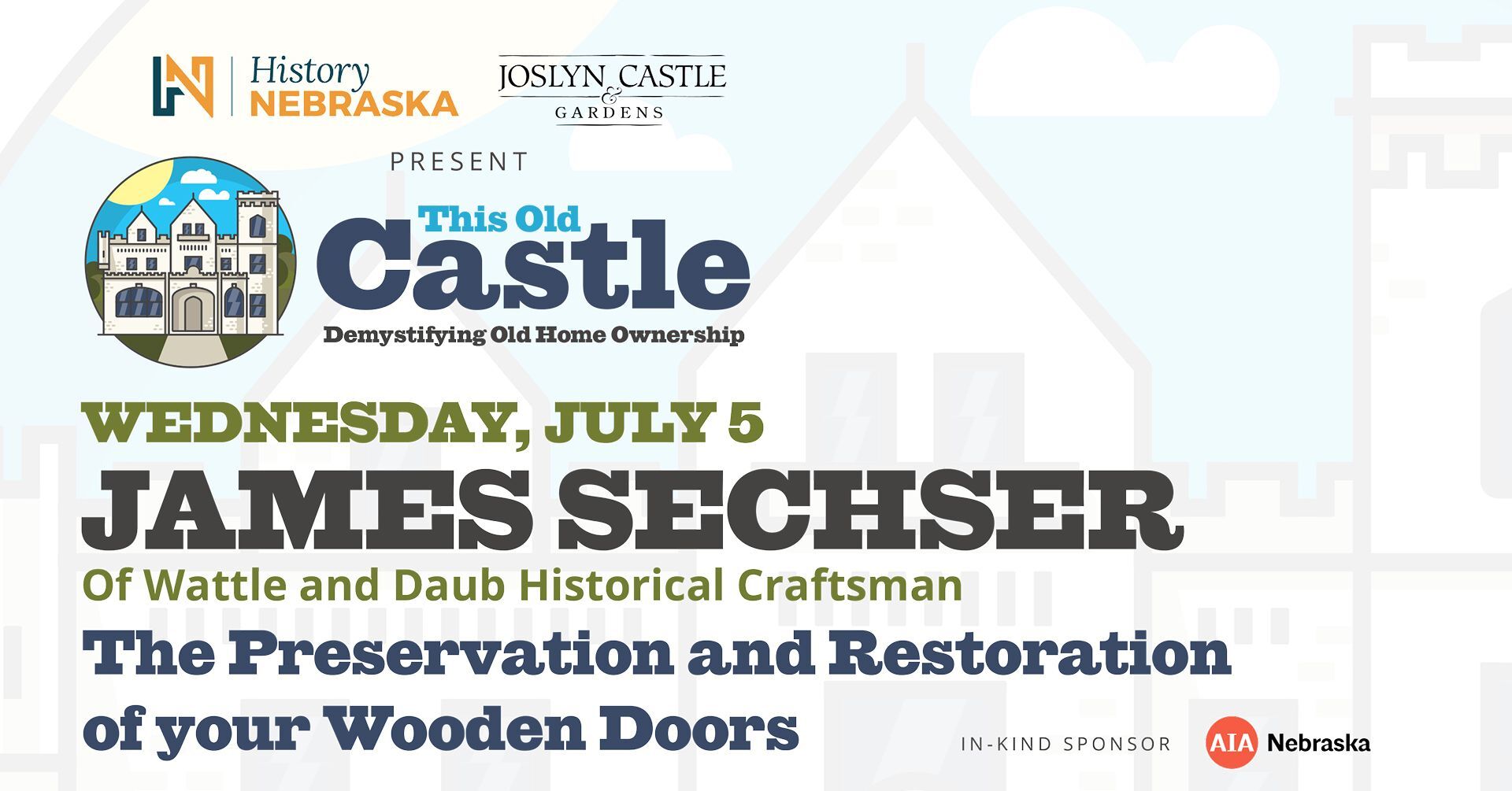 Old home ownership is not for the faint of heart (trust us, we know!), but we're here to help!
We've teamed up with our friends at History Nebraska to bring you a series designed to demystify maintaining and preserving your old home or building. We're calling it This Old Castle, and you're invited to learn alongside us from the best experts in town.
In addition to interactive presentations from the experts, attendees will be the first to learn about (and see) the major restoration projects happening inside the Joslyn Castle.
For the July installment of This Old Castle, James Sechser will analyze the construction of doors common in our area, how they were made, and how to restore their cosmetic integrity and functionality. Common problems and solutions will be addressed, such as: how to align an out of plumb door, weatherproofing, replacing broken glass, repairing wood rot, and much more. With the aid of case studies and history lessons, attendees should leave the class with new appreciation for their wood doors and the knowledge and courage to tackle their projects.
About our speaker:
James Sechser is the proprietor of Wattle & Daub Historical Craftsman and specializes in the restoration and maintenance of original doors, windows, and many other old home related items. James' goal is to make restoration available to all dwellers of old homes via affordable pricing and service options, entertaining barters, and providing educational opportunities to those who just need a little help getting a restoration project completed.
James has worked on many homes and businesses in the older Omaha neighborhoods, throughout Nebraska and Iowa, and hopes to do work in South Dakota and beyond as well. He has worked on National Registry buildings, courthouses, all kinds of homes from many periods, barns, farmhouses, bakeries, and many more. Restoring these beloved architectural features for decades of more use is James' motivation as a restoration carpenter. He hopes that you can find this passion, or at least an appreciation for it, too.
James is a native to Omaha and the neighborhoods East of 72nd Street, but often times he feels more like a farmhand from South Dakota where he spent many Summers and some frigid Winters. James resides in Dundee with his wife and children in their beloved 1920's Craftsman home that they're someday going to finish all of the projects that they've started. When he isn't helping folks with their old home projects, he enjoys gardening, studying history and art, spending time with his loved ones, antique hunting with his partners, and is a lifelong martial artist and weightlifter. Follow his restoration adventures on Instagram @wattleanddaubcraftsman
Doors open at 5:30pm.
Notes:
Architects: Tonight's presentation is eligible for 1 AIA HSW CEU credit.
Real Estate Agents: Tonight's presentation is eligible for Nebraska Real Estate Commission CE credits.
(Relevant documentation will be available at check-in).