Frequently Asked Questions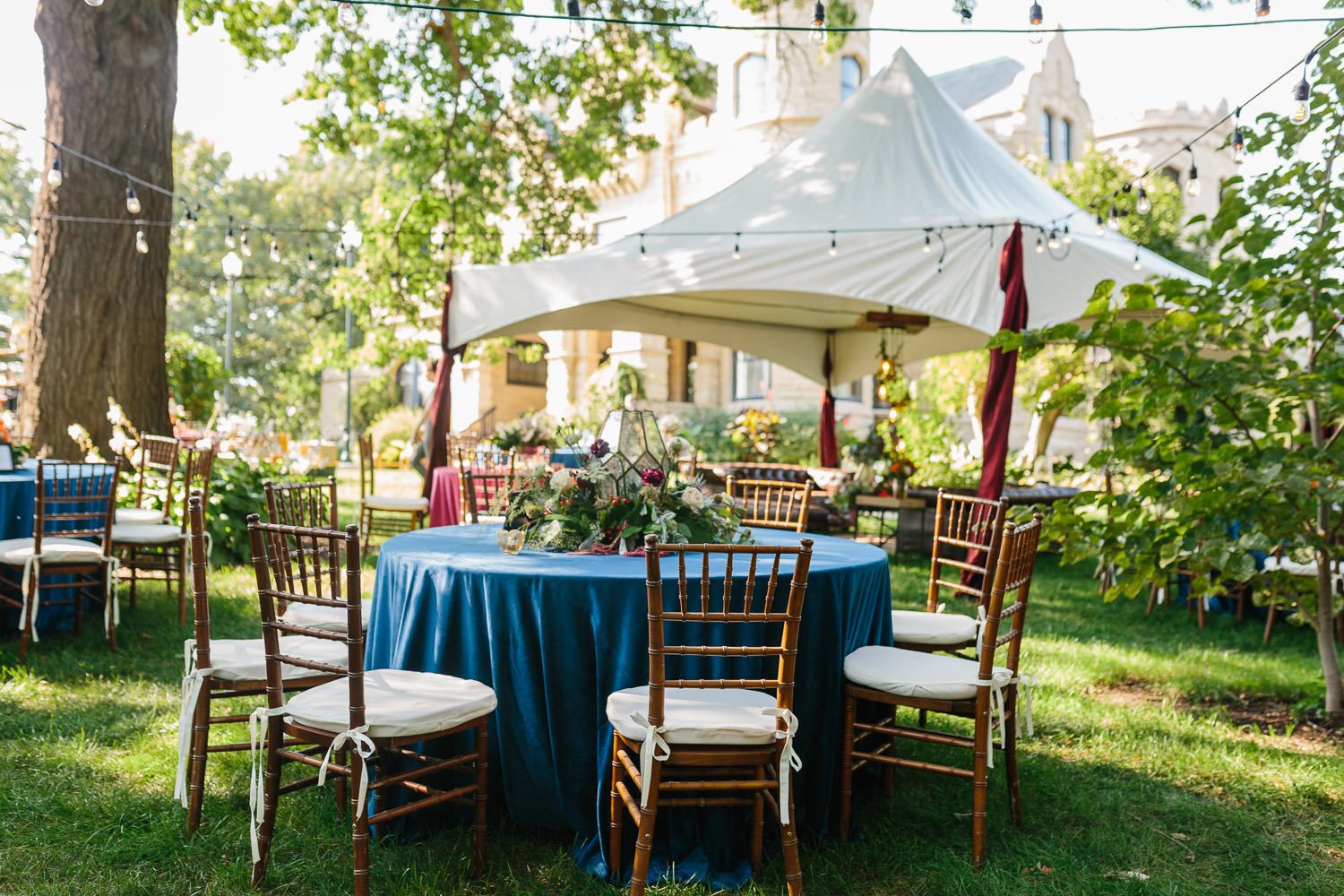 What is the capacity of the Castle?
Capacity for any event indoor or outdoor is 125, to include self, staff, vendors and guests. There are a variety of configurations depending on your event. For example - Theatre style seating in our Music Room and Balcony combined seats 80 people. Seated dinner on the first and second floors is 125. Floor plans will be created by the Manager of Programs and Events. 
Can we bring in our own food and beverages?
All food and beverages of any kind must be provided by one of the Castle's preferred caterers. Absolutely no outside food or beverages are allowed for any event. 
Are there rooms available for pre-event preparation?
Due to the age of the home and our place on the National Register of Historic Places we are unable to provide on-site pre-event preparation areas. ie - bridal room, grooms area, changing rooms, hair and makeup etc. 
What staff is provided with my rental before and on the day of the event?
The Joslyn Castle home is rented as a location only. We do not provide an event coordinator. The client is responsible for booking and coordinating all vendors. All clients must have someone present during the entire event, from property arrival to property exit time, to make sure that all policies are followed by vendors and guests.  Some clients hire an outside event coordinator to manage relationships with the caterers and rental companies as that coordination is not something we offer.
Security must be present at all events and will be scheduled by the Castle Manager of Programs and Events at the client's expense. Because we take security seriously, please know that you are responsible for your vendors and for the conduct of your invited guests, and any breach of security or safety regulations may result in the cancellation of your event, or the removal of guests. 
Castle docents will be scheduled by the Castle Manager of Programs and Events at the client's expense.
What services does the rental fee include?
Rental includes set up of Castle owned tables and chairs for indoor events. Any items for outside use must be rented at the client's expense. 
Are other events scheduled on the same day?
The Castle may be rented to more than one client in a day, however events will never overlap. Please be mindful of this in planning the time you will need for set up and tear down.
What is your alcohol policy?
Due to state liquor regulations, all beverage service must go through one of the Castle's preferred caterers. Absolutely no outside alcohol is allowed on the Joslyn Castle property – including outdoor and in personal vehicles. Should outside alcohol be brought onto the grounds this will result in the forfeiture of your damage deposit and possible termination of your event. It is the user's responsibility to inform all guests and vendors of this policy.
Are there adequate restroom facilities?
There are two women's rooms and two men's rooms available.
Are there any other restrictions we need to know about?
We are located in the historic Joslyn Castle neighborhood. Outdoor events must end at 9:00PM and indoor events must end at 12:00AM.
What is your cancellation policy?
Should the client cancel their event once a contract is signed by both parties - the cancellation policy is as follows:
Cancellation prior to one year before the contracted event date will result in a 75% refund. 
Cancellation between 12 months and 9 months prior to the contracted event date will result in a 50% refund.
Cancellation between 9 months and 6 months prior to the contracted event date will result in a 25% refund.
There is no refund within 6 months of a contracted event date. 
How far in advance should we reserve a date for our event?
The Castle is booked according to availability, however, keep in mind that many events are booked well in advance (9-12 months is the general rule).
How can I see if my preferred date is available? 
Click here to view our calendar.
Are pets allowed at your facilities?
Service animals are allowed at the Castle. Pets are not allowed inside the Castle.
Does your event location have overnight accommodations?
No, but hotels are close by.
Does the Castle have climate control?
The Castle is equipped with a boiler/chiller system.  The air/temperature inside the Castle may not be compatible with the temperature outside due to unseasonable weather. 
What decor restrictions exist indoors?
Candles with open flames are NOT allowed. Only LED candles are allowed and must be provided by the client.
No confetti, glitter, rice, beads, feathers, fireworks, or lanterns are allowed inside or outside of the Castle.
Real flower petals may only be used outside, and artificial petals inside.
Nails, tacks, screws, glue, staples, or tape may not be used on any surface of the Castle.
No items may be hung from any walls, ceilings, or chandeliers.
No pictures, furniture, or artifacts belonging to the Castle may be moved or removed at any time.
All real flower arrangements must be placed on approved plastic or glass so as not to damage wood surfaces.
What restrictions exist for outdoor decor or items to toss upon departure?
Silk flower petals, confetti, silly string and glitter are not allowed.
Please do not use sparklers or rice upon departure.
Bubbles or bird seed are allowed.
What kitchen amenities are available?
The kitchen is for use by our preferred caterers only. Only Castle staff and caterers are allowed in the kitchen. 
What is the day of rental time policy?
Rental time is property arrival time to property exit time, to include all set up and tear down. Weekday rental rates begin at a two hour minimum, including set up and tear down, with additional hours pro-rated and approved in advance. Standard rental rates cover 4 – 6 hours (depending on the event) including set up and teardown. All outdoor events must end by 9PM and indoor events must end by 12AM.
Who is in charge of cleanup?
Please clear the Castle and grounds of all belongings, decorations, rental items and waste before your property departure time.
Waste may be disposed of by the client and/or vendors in Castle provided, on-site containers. 
---
Additional questions? Contact our Rental Coordinator Judy Alderman at jalderman@joslyncastle.com.