Garden Lecture Series: Saving the Monarchs and other Pollinators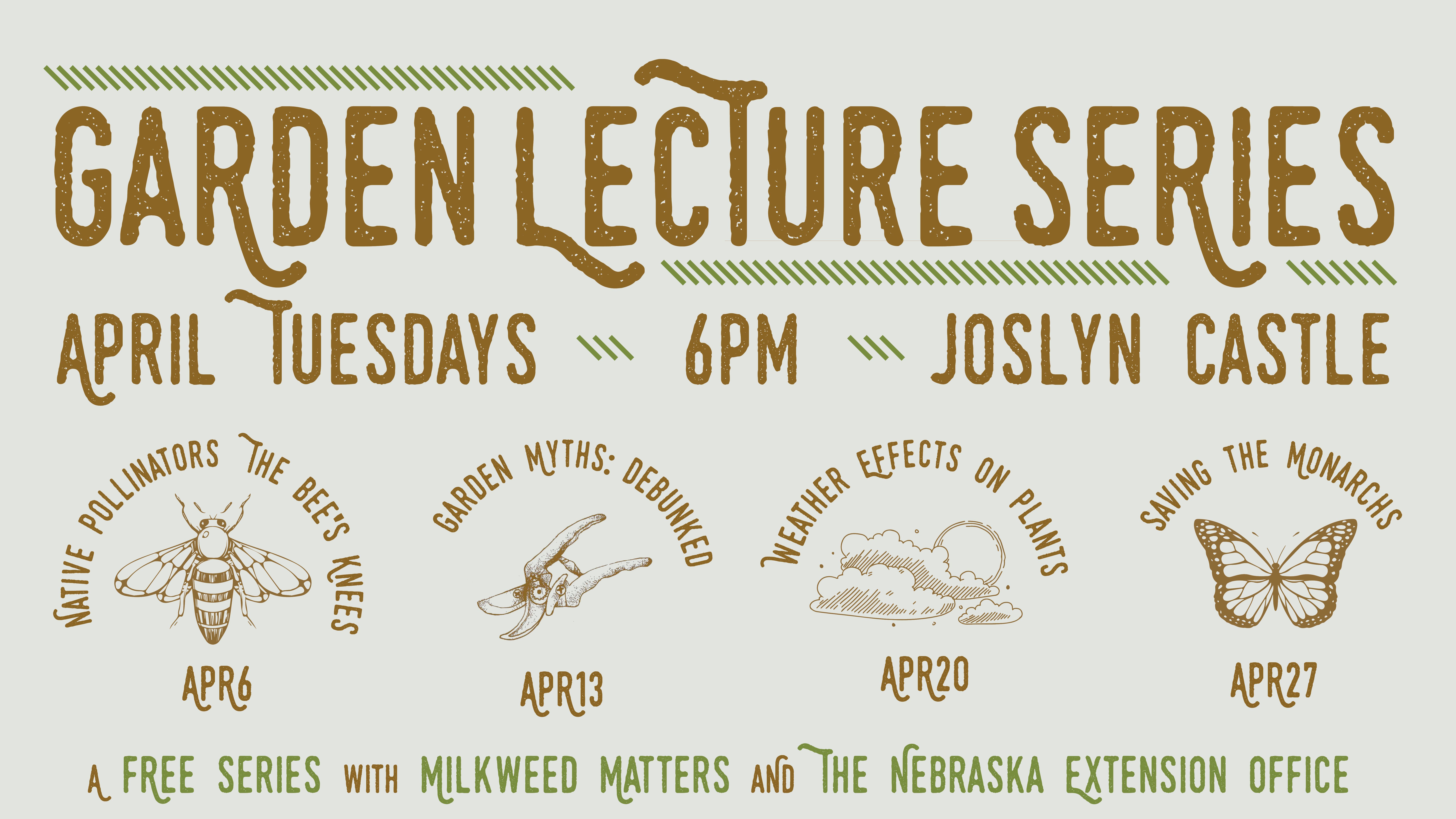 Garden Lecture Series
For city-dwellers, it's easy to forget about the nature that surrounds us. These four lectures, presented by Nebraska Extension Office and Milkweed Matters, will help you cultivate the green in your own backyard (or deck, or balcony, or porch) in practical ways.
Saving the Monarchs and other Pollinators
We will talk about the decline of pollinators with emphasis on the Monarch butterfly as a flagship species. We will describe the Monarch's amazing life cycle and epic migration. We will suggest and describe specific ways we can all help monarch butterflies and other pollinators by creating native habitat in our own backyards. Plant it and they will come!
Nancy Crews and Nancy Scott are on a mission to help pollinators. Combined they have over 80 years of horticulture and gardening experience and are both Master Gardeners. They are passionate about protecting and restoring habitat for pollinators with an emphasis on the Monarch butterfly.
Nancy Crews is a retired Naval officer, avid gardener, nature lover and lifelong environmentalist. She is the Director of the nonprofit Milkweed Matters, whose mission is to restore native pollinator habitat along the roadsides and in community pollinator gardens. Milkweed Matters has been in existence since 2013 and has engaged with the community to make over 164,000 milkweed seedballs in that were tossed along the roadside during large scale bicycle rides like RAGBRAI.
Nancy Scott is a talented artist, avid nature photographer and lifelong environmentalist. She Illustrated the book, Woody Plants for the Central and Northern Prairies by Richard Sutton and Walter Thaine Bagley (2000), and is a Board member for Prairie Pines Nature Preserve, and Green Bellevue.
The Nancys are a dynamic team and over the last 5 years have been involved in education, outreach and habitat restoration for pollinators with emphasis on the monarch butterfly. They have traveled to Mexico to see the monarch butterflies in their winter habitat three times. They established an international exchange program with students in Mexico and the United States focused on monarch conservation. They co-authored a bilingual children's book in 2019 entitled, "Saving the Monarchs" that tells the story of the threatened monarch butterfly, why they are endangered and what we can do to help them.
Since 2016, the Nancy's have made over 50,000 milkweed and native nectar flower seedballs with local schools, church groups, scouts, garden clubs, senior homes and other groups.