This Old Castle: Energy Efficiency & Healthy Homes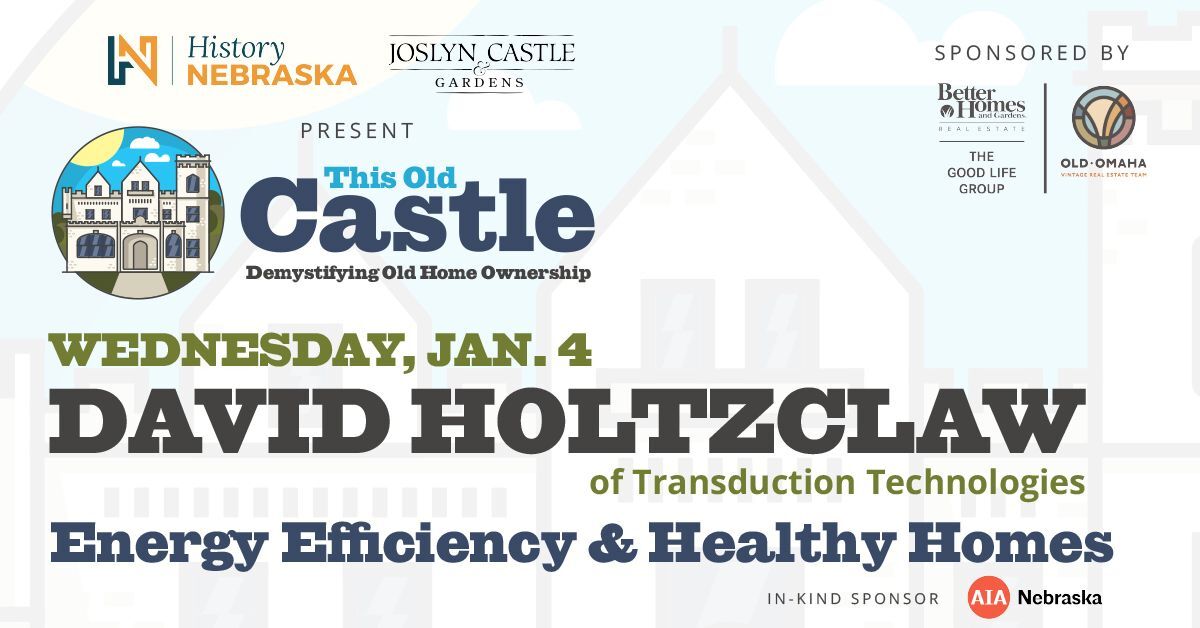 Old home ownership is not for the faint of heart (trust us, we know!), but we're here to help!
We've teamed up with our friends at History Nebraska to bring you a series designed to demystify maintaining and preserving your old home or building. We're calling it This Old Castle, and you're invited to learn alongside us from the best experts in town.
In addition to interactive presentations from the experts, attendees will be the first to learn about (and see) the major restoration projects happening inside the Joslyn Castle. After the presentation, we'll open up the floor for attendees to crowdsource solutions from fellow novice preservationists, share successes, and of course, share challenges.
About tonight's presentation "Energy Efficiency and Healthy Homes" with David Holtzclaw: Course participants will learn how to make home improvements that will improve thermal comfort while not decreasing indoor environmental conditions. Tonight we'll learn about the application of basic building science principals in older homes, the knowledge on how to insulate and air seal older homes, the knowledge of how to manage moisture in older homes, and what type of HVAC equipment to request from contractors.
About our presenter: David Holtzclaw is the Principal of Transduction Technologies, a small engineering and building science consulting firm in Omaha, NE that specializes in energy and building diagnostics. Transduction Technologies primary serves the residential, commercial, and industrial markets.
We are grateful for the support of tonight's sponsor Better Homes and Gardens, The Good Life Group, Old Omaha Vintage Real Estate Team.
Tonight's Program:
5:30pm - Doors Open
6:00pm - 6:15pm - Welcome and Castle Restoration Update
6:15 - 7:15pm - David Holtzclaw presents "Energy Efficiency and Healthy Homes"
7:15pm - Closing - Open Mic! Ask a question of the group, share a great success, commiserate about a great challenge.
We'll have a cash bar with soft drinks, water, beer, and wine available for purchase.
Notes:
Architects: Tonight's presentation is eligible for 1 AIA HSW CEU credit.
Real Estate Agents: Tonight's presentation is a Nebraska Real Estate Commission sanctioned CE Course.
(Relevant documentation will be available at the check-in table).