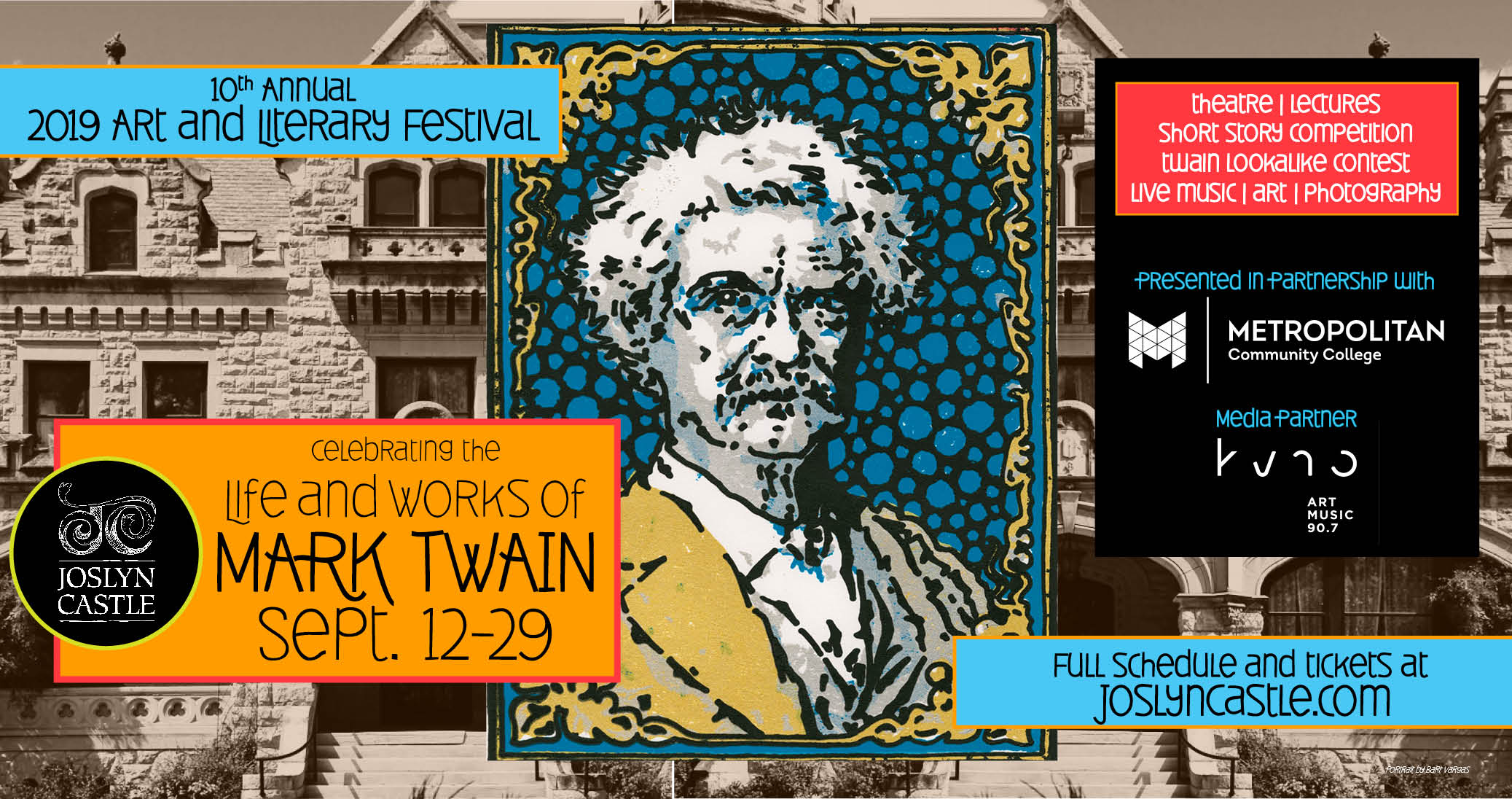 10th Annual Art and Literary Festival
The Life and Works of Mark Twain
The Joslyn Castle is excited to announce our 10th annual Art and Literary Festival: The Life and Works of Mark Twain! In partnership with Metropolitan Community College's Theatre, Art, and English departments, we present two full weeks dedicated to his life and works.
The Art and Literary Festival will run from September 12-29th at the Joslyn Castle, and will offer live theatre, lectures and discussion, short story contest, Mark Twain look-a-like contest, photography, live music and much more!
---
Theatre and Lectures
Students and local actors will perform "An Evening with Mark Twain: A Dramatized Selection of Works" throughout the Joslyn Castle. Weather permitting, a portion of the evening will take place in the beautiful Joslyn Castle gardens, under a canopy of old-growth trees.
The MCC Theatre program's dramatizations will include a variety of Mark Twain's work. Omaha's Nils Haaland will perform speeches and essays as Twain, while Christina Rohling and Ben Beck will portray the title couple in "The Diaries of Eve and Adam." An ensemble of MCC students and local actors will present a collection of short pieces: "The Notorious Jumping Frog of Calaveras County," "My Late Senatorial Secretaryship," "Lionizing Murderers," "The Capitoline Venus" and "A Curious Pleasure Excursion."
Special lectures will be held on September 19 and 26, prior to the evening's performances. The lectures will discuss Twain's life and will be given by MCC English instructor Dr. Kimberly Armstrong and Dr. David Peterson of the University of Nebraska Omaha.
Full Performance and Lecture Schedule on the Events Calendar
---
Mark Twain-Inspired Funny Flash Fiction Contest!
Mark Twain is well-loved as a master of the pithy retort. His pen was as sharp as his wit. 
Have you, yourself, ever tried your hand at writing a short story in the vein of Mark Twain? Are you up for the challenge now? 
Send them our way! There will be prizes in three categories: Adult, High School, and Middle School. A public presentation of selected writers reading their short stories will be on Saturday, September 21st at 5pm. Finalists who present will receive a complimentary admission for themselves and a guest to the evening's performance of "An Evening with Mark Twain" at 7:30pm.
There are no style constrictions. We only ask that your short story be inspired by the humor, language, subjects, rhythm, or tone of Mark Twain's work.
CLICK HERE TO SUBMIT YOUR SHORT STORY!
---
Music
Our festival media partner KVNO FM, will host their annual Classical Kids reception and concert on Sunday, September 29th, from 1pm-4pm.
Each month, KVNO honors the gift of the arts in our youth by recognizing an outstanding student musician. A panel of local music educators and KVNO staff members choose students whose musical efforts exemplify the value and richness of the arts in a young person's life.
This is your opportunity to see them perform live in the Castle's storied Music Room!
---
The 2019 Joslyn Castle Art and Literary Festival is proudly presented with underwriting support from the Kimmel Charitable Foundation.