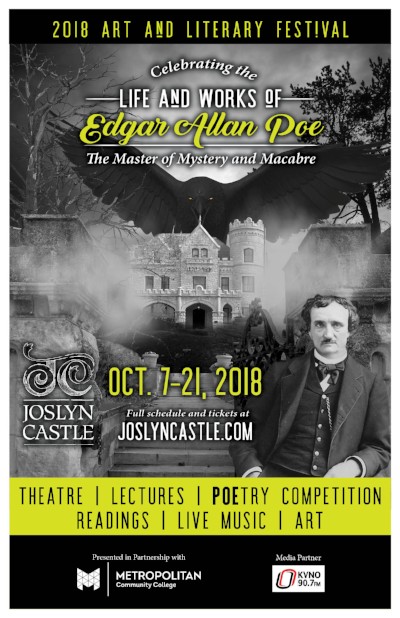 9th Annual Art and Literary Festival
The Life and Works of Edgar Allan Poe
The Joslyn Castle is excited to announce our 9th annual Art and Literary Festival: Edgar Allan Poe - The Master of Mystery and Macabre! In partnership with Metropolitan Community College's Theatre, Art, English and culinary school, we present two full weeks dedicated to his life and works.
The Art and Literary Festival will run from Oct. 7-21st at the Joslyn Castle, and will offer live theatre, lectures and discussion, POE-try contest, art, live music and much more!
---
Theatre and Lectures
Metropolitan Community College Theatre Program will present Tales of Poe, an evening featuring five Edgar Allan Poe stories and four of his poems performed throughout the castle. The dramatizations will include The Tell-Tale Heart, The Fall of the House of Usher, The Cask of Amontillado, The Masque of the Red Death, and The Imp of the Perverse, as well as the poems Annabel Lee, The Spirits of the Dead, and The Raven.
The audience will move from room to room, led by a docent that will perform the poems. Shows begin at 7:30pm and a reception and discussion will be held following each performance. Prior to the Thursday performances at 6:30pm, a lecture on Poe's creative process and his essay, The Philosophy of Composition, will be given by MCC Theatre Program Coordinator Scott Working.
Full Performance and Lecture Schedule on the Events Calendar
---
Edgar Allan POE-try Contest!
Don't you love reading the old poems of Edgar Allan Poe aloud? Their sounds are rich and sonorous; their rhythms are haunting and hypnotic; their subject matter is chilling and macabre.
Have you, yourself, ever tried your hand at writing a poem in the vein of Mr. Poe? Are you up for the challenge now? What's your take on "The Raven" or "The Bells"? Who is your "Annabel Lee"?
Send them our way! There will be prizes in three categories: Adult, High School, and Middle School. A public presentation of selected writers reading their poems will be on Saturday, October 13th, at 5:00 pm. Finalists who present will receive a complimentary admission to the evening's performance of "Tales of Poe" at 7:30pm.
There are no style constrictions. We only ask that your poem be inspired by the language, subjects, rhythm, or tone of Edgar Allan Poe's work.
SUBMISSIONS ARE NOW CLOSED.
---
Art
The Castle will be alive with Poe-inspired artwork created by local artists, displayed in every room. MCC is accepting submissions (anybody is welcome to apply) and a small supply stipend will be provided for up to 20 selected artists!
There are no style or material constrictions. We only ask that your art be inspired by Edgar Allan Poe's catalogue.  
SUBMISSIONS ARE NOW CLOSED.
---
Music
Our festival media partner KVNO FM, will host their annual Classical Kids reception and concert on Sunday, Oct. 14th, from 1pm-4pm.
Each month, KVNO honors the gift of the arts in our youth by recognizing an outstanding student musician. A panel of local music educators and KVNO staff members choose students whose musical efforts exemplify the value and richness of the arts in a young person's life.
This is your opportunity to see them perform live in the Castle's storied Music Room!
---
The 2018 Joslyn Castle Art and Literary Festival is proudly presented with underwriting support from the Kimmel Charitable Foundation, the John K. and Lynne D. Boyer Family Foundation, Humanities Nebraska, the Nebraska Arts Council, and the Nebraska Cultural Endowment.