The Life and Works of Sir Arthur Conan Doyle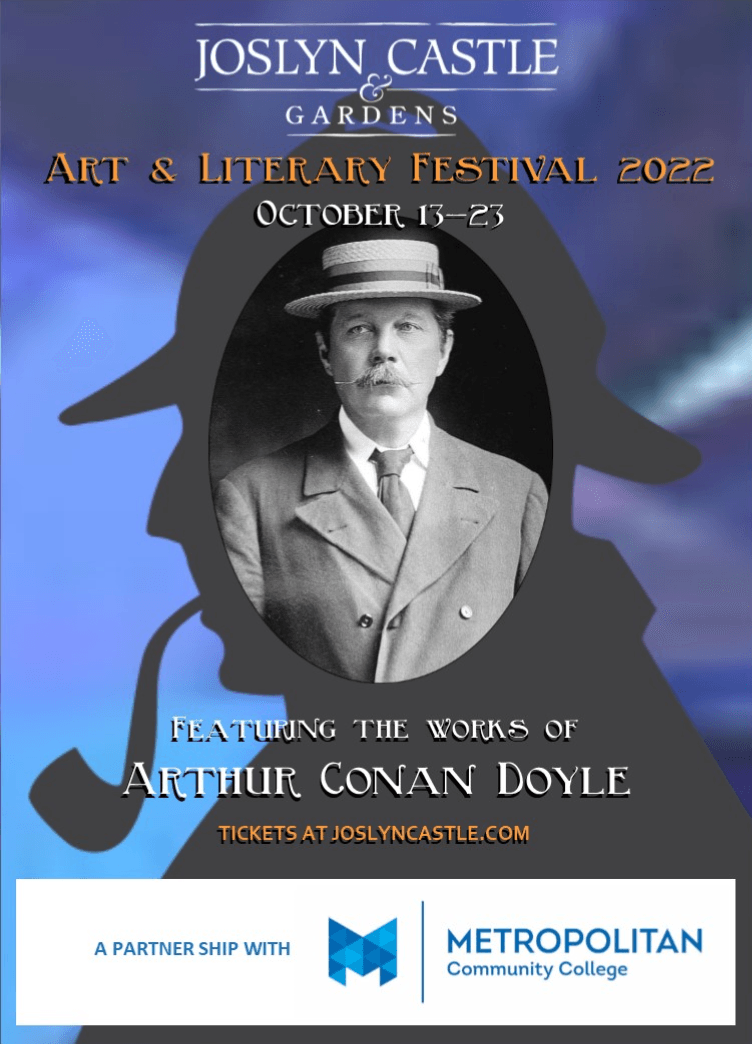 Joslyn Castle's annual Art & Literary Festival returns October 13-23, showcasing author Sir Arthur Conan Doyle and his iconic character Sherlock Holmes! 
---
Joslyn Castle & Gardens and Metropolitan Community College
proudly present
Art & Literary Festival 2022
Celebrating Sir Arthur Conan Doyle
October 13 - 16 and 20 - 23
3902 Davenport Street
Two Sherlock Holmes mysteries in one magical place! Grab your deerstalker, throw on your cape and immerse yourself in theatrical performances adapted from two of Sir Arthur Conan Doyle's best-loved short stories: Sherlock Holmes and the Adventure of the Blue Carbuncle, and The Final Problem.
A tale of goodwill with touches of humor and a darker side, the 40-minute Adventure of the Blue Carbuncle will be presented at 7:30 p.m. in the third floor ballroom of the Castle while the ultimate (or was it?) Holmes mystery, The Final Problem, is presented downstairs in the Music Room. A cash bar will be open during intermission in the Stair Hall as audiences move from one performance to the other. Audience masks are required during performances.
Enlightenment! 
UNO professor Tanushree Ghosh, Ph,D., will deliver a lecture entitled You Can See Everything: Sherlock Holmes, the City, and the Technology of Seeing at 6:00 p.m. prior to the October 13 and October 20 performance!  (see her bio below)
Writing Contest winners will present their work at 6:00 p.m. prior to the October 22nd performance!
The 2022 Joslyn Castle Art & Literary Festival is seeking submissions for its short story contest. In honor of the festival's featured author, Sir Arthur Conan Doyle, the theme of this year's contest is mystery. 
Writers without ready-made mysteries are encouraged to use one of these two prompts to spark creativity.  
1. Your protagonist returns home after a long absence. It's a relief to be home, only... something is different, a new rug in the bedroom and under it, a trap door? 
2. Your protagonist's grandmother dies and leaves them a painting she knew they never even liked. They feel too guilty not to hang it and, in doing so, find an unusual engraving on the back.  
Three selected authors will be asked to from read their short stories on Saturday October 22 at 6:30 pm and awarded two tickets to that evening's performance of the Sherlock Holmes one-acts and one free admission to the Metropolitan Community College Creative Writing Forum on October 29.  
Original short mysteries or crime fiction of 5000 words or less. Paste your story into the body of an email (no attachments) and include "Contest Submission: Story Title" in the subject line. Email to Liz Kay at eskay@mccneb.edu by October 18th. Winners will be notified by October 20.  
Writing Workshop! 
This is an opportunity for aspiring writers to hone their craft, guided by professionals, at 6:00 p.m. prior to the October 15 performance. The writing workshop facilitator is Lydia Kang, author of the mystery novel A Beautiful Poison, and the historical novel Opium and Absinthe: A Novel.
The Art of Illustration on Display! 
---
About our Expert:
Dr. Tanushree Ghosh is an Associate Professor of English and Graduate Program Chair at University of Nebraska, Omaha. Her teaching and research interests revolve around nineteenth-century literatures, utopian/dystopian literatures, detective fiction, anticolonial pedagogy, visual culture, and film studies. In her research, Dr. Ghosh often writes on the politics of spectatorship and ways of seeing linked to representation, identity, and resistance.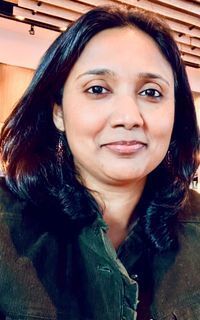 ---
Lit Fest runs from October 13 - 23, 2022