First Tuesdays: Tell it to Steinway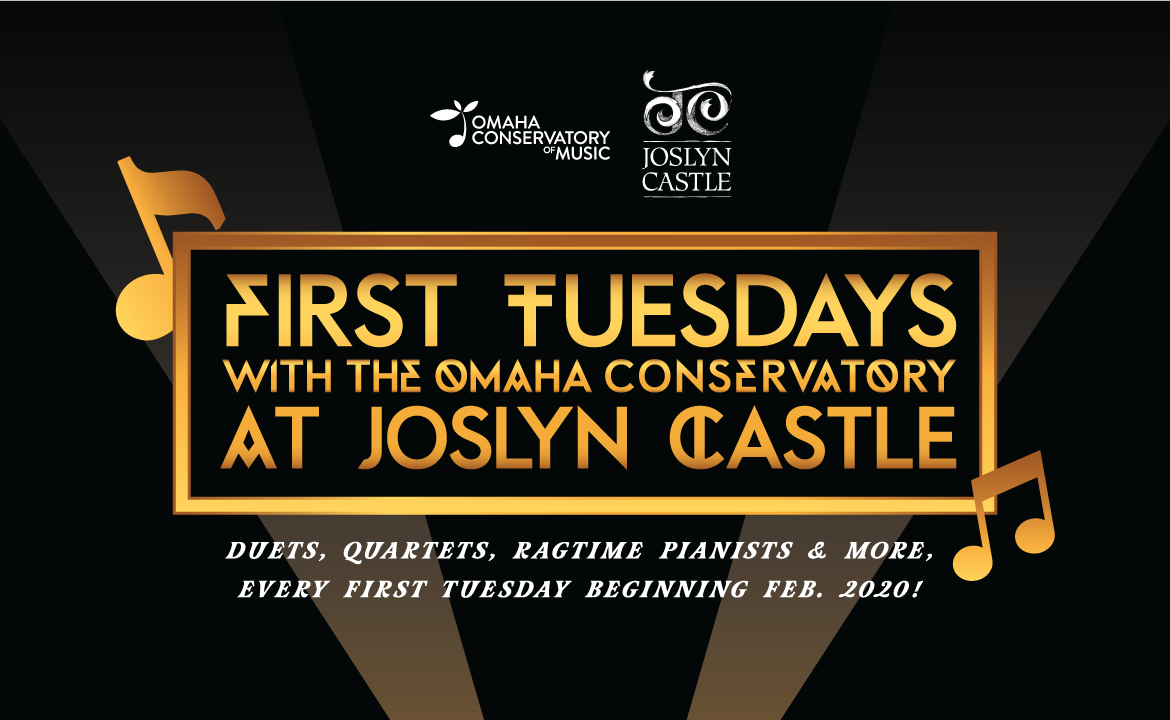 First Tuesdays with the Omaha Conservatory of Music at Joslyn Castle: Tell it to Steinway
The First Tuesdays with the Omaha Conservatory of Music at Joslyn Castle series is sponsored by Richard and Mary Parrish.
Performers: Stacey Barelos, DMA (piano), Vu Che (piano), Yulia Kalashnikova (piano)
Conservatory pianists will bring you the sounds of the era - classical, jazz, and ragtime! From Scott Joplin to George Gershiwin, Omaha Conservatory of Music's Artist-Faculty will share what was cutting edge and creative leading to the 1920s. No player pianos necessary at this event!
Doors open at 6:30pm, performance at 7:00. Cash bar is available prior to performance and during intermission.
About our Performers:
Dr. Stacey Barelos - Piano
Omaha native Dr. Stacey Barelos is a performer, composer, and teacher. She specializes in the music of the 20th and 21st centuries, particularly the music of living composers. Regarding her first solo release, The Midwest American Piano Project, the American Record Guide said, "Stacey Barelos... plays with authority and poetic nuance, her beautiful tone captured vividly in this warm recording..."
Barelos has also done extensive research on the piano music of American composer Henry Cowell, much of which can be seen on her website: cowellpiano.com. Centaur Records released her second CD, Henry Cowell: Piano Music, in 2012.
As a composer, Stacey's works have been performed across the U.S. and in Europe and Australia. Recent premieres include thread, stitch, weave, bind for string ensemble inspired by the work of Sheila Hicks and The Piano is Stressing Us Out written especially for the audience at her 2015 TEDx Omaha talk. Her works can be heard on the Albany and Blue Griffin labels.
Dr. Barelos received her D.M.A. degree from the University of Wisconsin-Madison and also obtained degrees from Luther College in Iowa and Bowling Green State University in Ohio. Currently, Stacey teaches piano, theory and composition at the Omaha Conservatory of Music and is the Education Director for the Omaha Under the Radar Festival.
Vu Che - Piano
American pianist Vu Che has performed as both soloist and collaborative pianist across the continental United States and in Austria, China, Kenya, New Zealand, and Australia. As an instructor, Vu has given lecture-recitals and workshops at KBTC college in Nairobi, Kenya, and has maintained an independent piano studio for over ten years, where he has worked with young pianists of all levels. Vu has also been an active church musician for the last fifteen years, having composed hymns and piano arrangements for services and conferences.
An Omaha native, Vu received his Bachelor's of Arts in Sacred Music and Piano from the Moody Bible Institute in Chicago and his Master's of Music in Piano Performance from Baylor University. His principal teachers include Un-Young Whang, James Johnson, and Krassimira Jordan. As an advocate for local arts, Vu actively seeks opportunities to share his passion for music and looks forward to collaborating with the local arts community in Omaha.
Yulia Kalashnikova - Piano
Yulia Kalashnikova is a native of Kazan, Russia. She earned her Bachelor and Master of Music degrees in accompanying, chamber music, performance and pedagogy from Kazan State Conservatory in Kazan, Russia, where she studied with Alfia Burnasheva and Yuzefina Sokolskaya.
Before coming to Omaha, Kalashnikova was a staff accompanist at Kazan State Conservatory as well as piano faculty at Palantai College of Music. As an accompanist, she performed extensively with Bel Canto Youth Choir, touring to China, England, and throughout the United States, including a performance at Lincoln Center in New York, New York. Currently, she is on the music faculty of Creighton University.
Kalashnikova is also an active performer in Omaha's music scene, performing in the Organ Vesper Series and Omaha Chamber Music Society concerts, as well as with fellow faculty members, Omaha Symphony members, and college students. Most recently she performed with the late violin virtuoso Eugene Fodor at the Holland Center for the Performing Arts.