This Old Castle: Decoding Tax Credits, Landmarking, and the National Register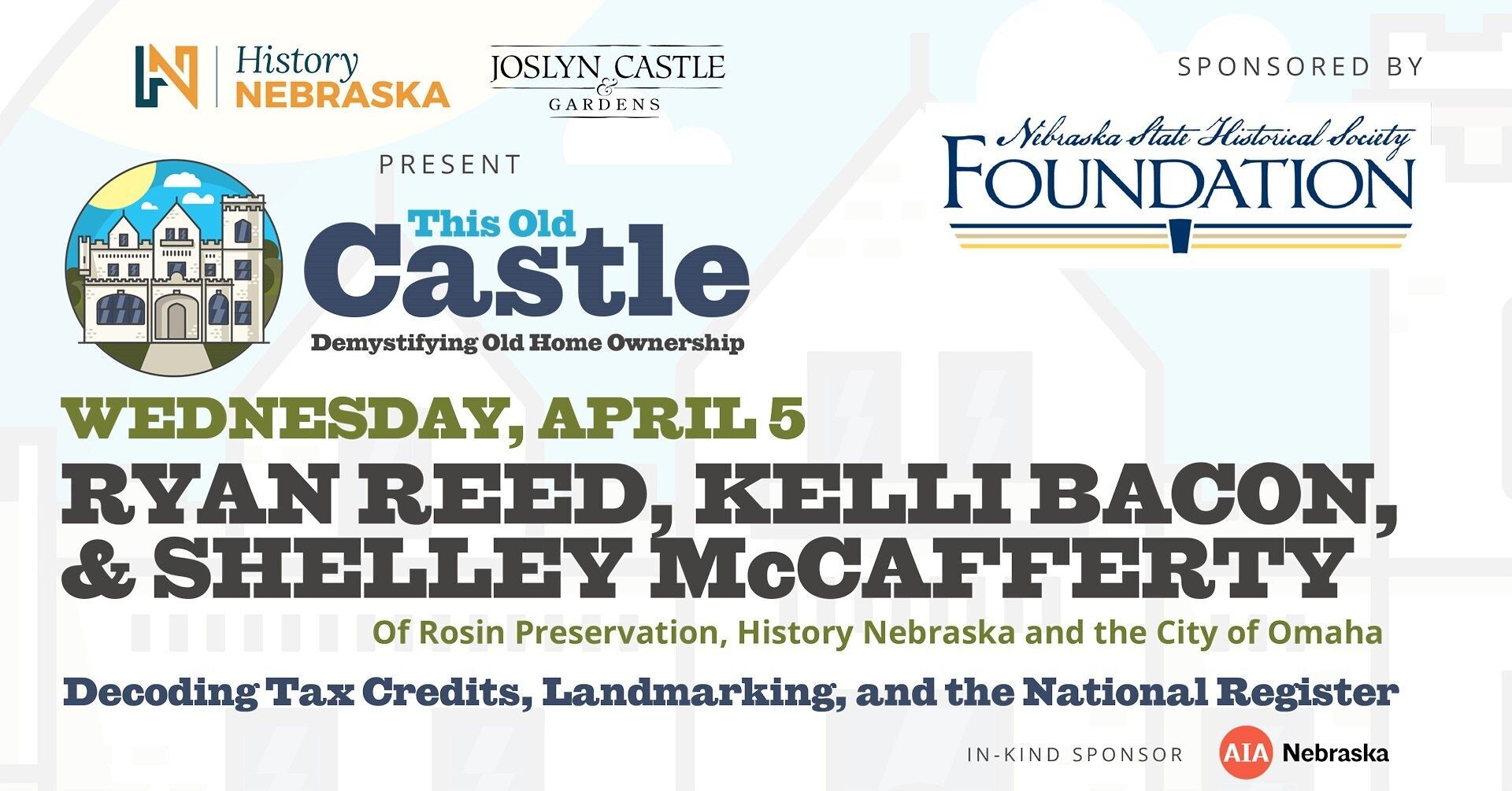 Old home ownership is not for the faint of heart (trust us, we know!), but we're here to help!
We've teamed up with our friends at History Nebraska to bring you a series designed to demystify maintaining and preserving your old home or building. We're calling it This Old Castle, and you're invited to learn alongside us from the best experts in town.
In addition to interactive presentations from the experts, attendees will be the first to learn about (and see) the major restoration projects happening inside the Joslyn Castle.
April's presentation is sponsored by the Nebraska State Historical Society Foundation.
Join us for a panel discussion about the potential benefits and designations available to old home owners. Our esteemed line-up of leaders in the preservation community include Certified Local Government and Outreach Coordinator Kelli Bacon of History Nebraska, City of Omaha Historic Preservation Planner Shelley McCafferty, and Senior Tax Credit Coordinator Ryan Reed of Roisin Preservation.
What is the difference between the National Register and a local Landmark designation, and what is the process to apply for each? What type of funding is available for homes with historic designations? How do old home owner navigate historic preservation covenants in deeds?
And maybe most importantly: who can help as you navigate these programs?!
About our speakers -
Kelli Bacon is the Certified Local Government and Outreach coordinator at History Nebraska. In that capacity, she works with communities and people who want to promote historic preservation principles, heritage tourism, economic development, and education by saving and using the historic resources that are important to them. Bacon also manages the historic preservation covenant program and is helping administer the National Register of Historic Places program. In her free time, she enjoys traveling to visit historic sites, museums, and drinking craft beer.
Shelley McCafferty has been the Preservation Administer for the Omaha Landmark Heritage Preservation Commission for the past two year. Having earned a Master of Architecture degree in 1996, she has over 20 years of experience in historic preservation as both a planner and architectural designer.
During his 15-year career as a historic preservationist, Ryan Reed has worked in advocacy, material conservation, and architectural documentation. Currently, he is the Senior Tax Credit Coordinator with Rosin Preservation, a full-service historic preservation consulting firm based in Kansas City, Missouri. Previously, Ryan was the Historic Tax Incentive Coordinator with the Nebraska State Historic Preservation Office for over seven years. He holds an MA in History from the University of Missouri and an MFA in Historic Preservation from the Savannah College of Art and Design. Ryan has no tattoos and his preferred drink is Four Roses with a single ice cube.
Tonight's Program:
5:30pm - Doors Open
6:00pm - 6:15pm - Welcome and Castle Restoration Update
6:15 - 7:15pm - Preservationist panel presents "Decoding Tax Credits, Landmarking, and the National Register."
We'll have a cash bar with soft drinks, water, beer, and wine available for purchase.
Notes:
Architects: Tonight's presentation is eligible for 1 AIA HSW CEU credit.
Real Estate Agents: Tonight's presentation is eligible for Nebraska Real Estate Commission CE credits.
(Relevant documentation will be available at the check-in table).