First Tuesdays: The French Connection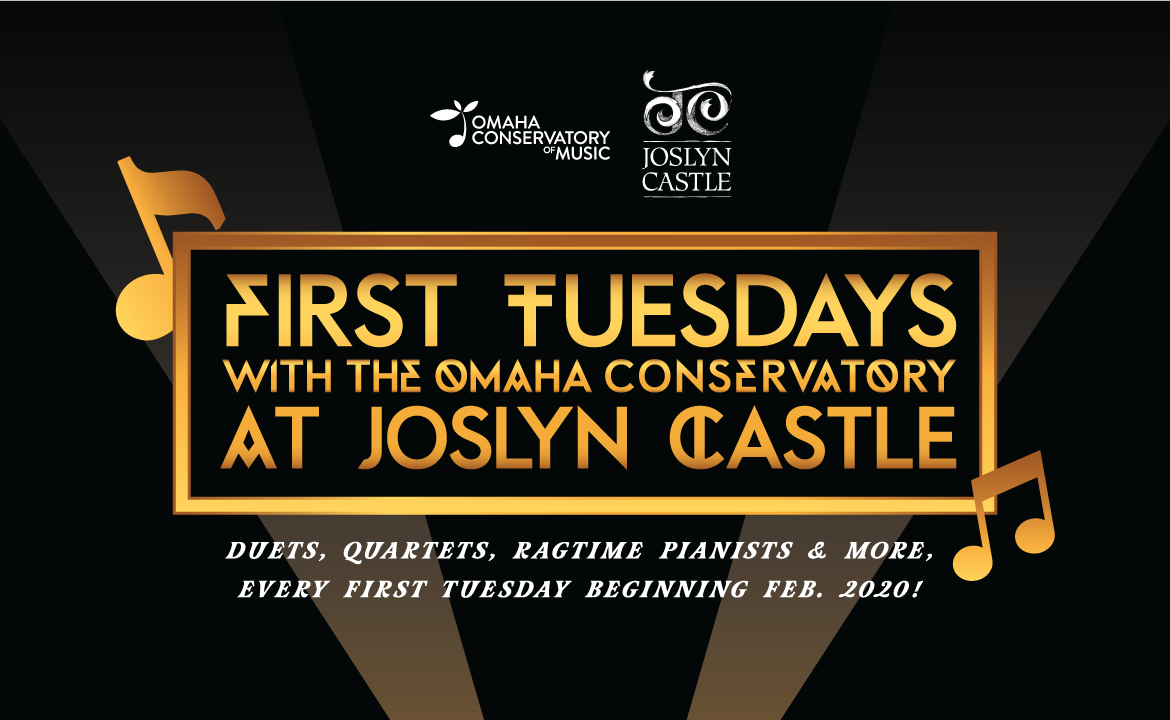 First Tuesdays with the Omaha Conservatory of Music at Joslyn Castle: The French Connection
The First Tuesdays with the Omaha Conservatory of Music at Joslyn Castle series is sponsored by Richard and Mary Parrish.
Performers: Kevin Tompkins (violin), Melissa Tatreau Holtmeier (violin), Jesse Griggs (viola), Tim Strang (cello)
Omaha Conservatory of Music presents a string quartet traveling through the music of the 1920s and earlier. During a pivotal time when music was exploring atonal ideas and the birth of jazz, this era had a little something to captivate everyone. This performance will connect jazz ragtime and French culture with themes of Gershwin inspired by Debussy.
Doors open at 6:30pm, performance at 7:00. Cash bar is available prior to performance and during intermission.
About our Performers:
Kevin Tompkins - Violin
Kevin Tompkins has been a member of the Omaha Symphony since 2016. Originally from Greenville, South Carolina, he received his Bachelor of Music degree with High Distinction from the Eastman School of Music in Rochester, New York. Two years later, he completed his Master of Music degree at the Cleveland Institute of Music. He began his professional orchestral career while still in school, playing frequently with the Rochester Philharmonic, Canton Symphony, Akron Symphony, and Erie Philharmonic. He is currently on the board of the Omaha Chamber Music Society, and makes frequent appearances on their Summer Concert Series and Eko Nova concerts.
A strong advocate for new music, he can be found performing and volunteering for Omaha Under the Radar during their annual summer festival. In 2019, Tompkins joined the faculty at the Omaha Conservatory of Music.
Melissa Tatreau Holtmeier - Violin
Melissa Tatreau Holtmeier has a Bachelor's Degree in Music Education from the University of Nebraska at Omaha and a Master's Degree in Violin Performance and Pedagogy from the University of Wisconsin-Milwaukee. She studied pedagogy with Darcy Drexler through the Wisconsin String Academy. She has studied violin with Dr. Paul Todd, Dr. Laura Kobayashi, Ms. Anne Nagosky and Dr. Myron Kartman. Tatreau has registered training in Suzuki books 1-4 with Susan Kempter and has attended Mark O'Connor's fiddle camps in San Diego and New York City. She was in the very first teacher certification class of the Mark O'Connor Violin Method, books 1 and 2, in 2009.
Since 2004, Tatreau has been a full time Artist-Faculty member at the Omaha Conservatory of Music (OCM) and serves as the String Department Chair. Tatreau has her 200 RYT in yoga and in addition to teaching at the OCM summer institute, she has presented "Yoga for Musicians" at the American String Teachers' Association national conventions in Louisville (2014), Tampa (2016 and Atlanta (2018). Tatreau teaches Music Appreciation at Phoenix Academy in Omaha and is a coach for the Omaha Area Youth Orchestras. She is a member of the American String Teachers' Association, Music Teachers National Association and the Omaha Musicians' Union.
As a performing artist on both violin and viola, Tatreau has played with Mary J. Blige, Bobby Vinton, Frank Sinatra Jr., Rod Stewart, Josh Groban, Pam Tillis, The Lettermen, Michael W. Smith, Johnny Mathis, Michael Buble, the Trans-Siberian Orchestra and Mannheim Steamroller (she's on their PBS special: 30/40). Tatreau is a founding member and manager of the Mahr String Quartet. In her years of experience playing with the Omaha and Lincoln Symphonies, Tatreau has has the opportunity to play both great works and accompany violinists Itzhak Perlman, Joshua Bell, Philippe Quint, Sarah Chang and Midori. Tatreau has also toured China and the USA with the Mantovani Orchestra. She performed the Salute to Vienna New Year's 2010 concerts in Southern Florida and has been seen in the Orpheum pit as a local with the Broadway shows: Little House on the Prairie, Westside Story, The Lion King, The Book of Mormon, Kinky Boots, Newsies, Cinderella, Phantom, Something Rotten, The Sound of Music, The Little Mermaid (2017) and The King and I (2018).
In her free time, Melissa likes to hang out with her photographer Husband, Chris Holtmeier, their Kindergartener, Ella, and their Siberian cat, Sergei. (Reading, yoga, naps and coffee are nice, too!)
Jesse Griggs - Viola
Jesse Griggs earned his Master of Music degree in Viola Performance at Bowling Green State University in 2007 having been awarded the Graduate String Quartet Assistantship. For his undergraduate degree, he was awarded a full tuition music talent award to BGSU where he studied with Csaba Erdelyi and graduated with a Bachelor of Music in Viola Performance: Suma cum Laude and with University Honors. He has participated in master-classes with Donald McInnis, Paul Neubauer, Jeffrey Irvine, Roger Chase, Karen Ritscher, Anner Bylsma, Merry Peckham, Roland Vamos, and David Ying, among many others.
He has performed under the batons of conductors including Klauspeter Seibel, David Barg, Emily Freemen Brown, Samuel Addler, Leonard Slatkin, and Robert Spano among others with orchestras including: Lima Symphony Orchestra, BGSU Philharmonia (where he was principal violist), Firelands Symphony, Ottawa University Symphonette (KS), the Texas Music Festival Symphony, and the Omaha Symphony Orchestra. He has collaborated with musicians such as: Csaba Erdelyi, Rachel Barton Pine, Dr. Alan Smith, Dr Penny Kruse, Dr. Andrew Pelletier, Josh Groban, Trans Siberian Orchestra, Manheim Steamroller, and members of the Pacifica Quartet. Mr. Griggs has performed concertos with the Ottawa University Symphonette (KS), and Orchestra Omaha. In 2005, Mr. Griggs was invited to tour with the Bowling Green State University Men's Chorus during their spring tour of New England.
In addition to his teaching at the Omaha Conservatory of Music, Mr. Griggs also coaches sectional rehearsals with the Omaha Area Youth Orchestra, and appears regularly in the viola section of the Omaha Symphony Orchestra.
Mr. Griggs also enjoys baseball, having played for 15 years and been an umpire for 12 seasons. Additionally, he enjoys a good game of disc golf or racquet ball and is an avid amateur aquarist.
Tim Strang - Cello
Tim Strang joined the Omaha Symphony in the fall of 2011. A native of Davenport, Iowa, he began his cello studies at the age of 9 in a public school music program, and soon after began lessons with Janina Ehrlich at Augustana College. In high school, he performed with the Augustana College Orchestra and Quad City Symphony, as well as the Quad City Youth Symphony, of which he was principal cellist. He also appeard with the QCYSO as soloist in Shostakovich's Cello Concerto No. 1, and was the recipient of numerous awards and scholarships. He went on to receive degrees from Vanderbilt University and the University of Michigan in cello performance, studying with Felix Wang and Anthony Elliott, respectively. He graduated from Vanderbilt summa cum laude as a Harold Stirling Vanderbilt scholar and recipient of the Jean Keller Heard String prize. At Vanderbilt, he had many opportunities to perform new music, performing on the BMI composer in residence series and as part of a composition workshop exchange with the Royal Academy of Music in London. This passion continued in Ann Arbor, where he performed with U of M's new music ensemble. He has performed in the summer at Round Top, Aspen, and with the National Repertory Orchestra in Breckenridge, CO. In addition to playing with the symphony, Tim plays for the Omaha Chamber Music Society and other chamber music groups, as well as teaching private cello students.