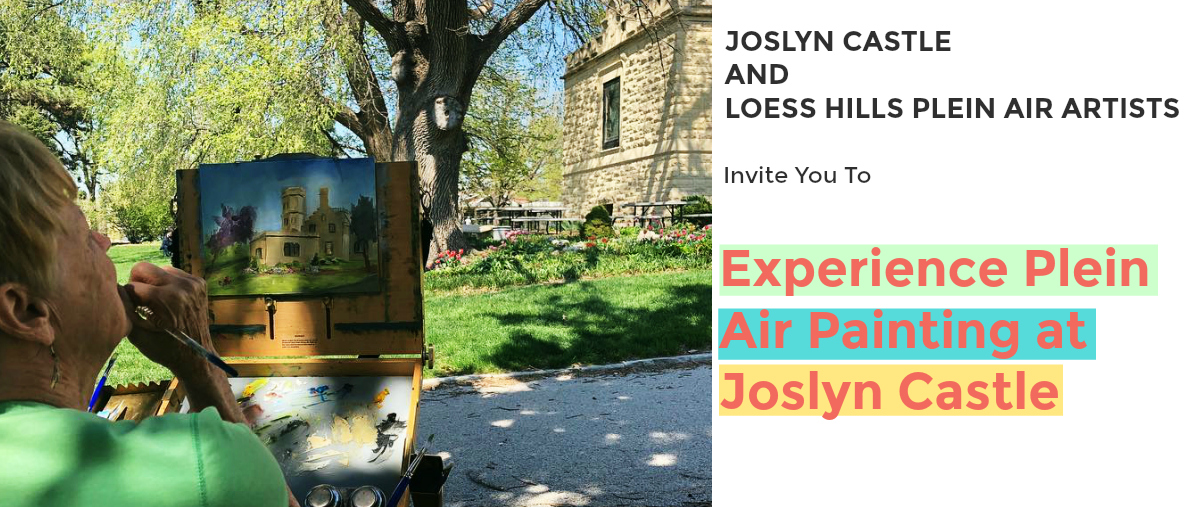 Experience Plein Air Painting at Joslyn Castle
Tuesday Evenings in June from 6:30 to sunset
The Joslyn Castle and the Loess Hills Plein Air Artists invite you to experience the magic of creating en plein air. This opportunity is presented free to the community to Adults 18+.
"Painting en plein air means painting in the open air and because Joslyn Castle is both architecturally and naturally beautiful, let's capture it in our memories and on our paper and canvases. Plein air painting is about the total experience of being in nature, quiet observation, contemplation and focus, sketching, planning, coloring and recording this timeless memory. The end product – a painting, is just a bi-product of this experience. This is not a class but an opportunity." - Leela Bruner, BFA
Several seasoned plein air artists will be available at each session and if asked, a brief amount of suggestions can be made, and encouragement given. If new to painting pick a medium and consider watching some YouTube videos for painting instructions.
Bring your own materials, something to sit on, and insect repellent. Respect for the property, for the attention and concentration of others, and being non-judgmental is required. Come to as many of these Tuesday Evening sessions as you wish.
Suggested mediums: watercolors, oils, acrylics, pastels, color pens, pencils and inks.