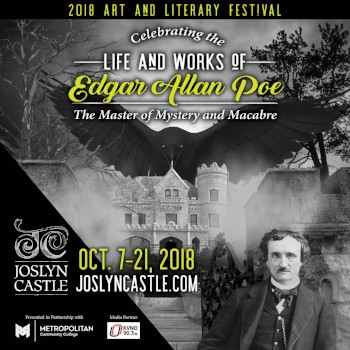 *Tonight's performance is FREE for Metropolitan Community College Students and Faculty! (You must still register)
The public is welcome to purchase tickets at the standard rate*
Metropolitan Community College Theatre Program presents "Tales of Poe," an evening featuring five Edgar Allan Poe stories and four poems performed throughout the Castle!
The dramatizations will include The Tell-Tale Heart, The Fall of the House of Usher, The Cask of Amontillado, The Masque of the Red Death, and The Imp of the Perverse, as well as the poems Annabel Lee, The Spirits of the Dead, and The Raven.
The audience will move from room to room, led by a docent that will perform the poems.
Shows begin at 7:30pm and a reception and discussion will be held following each performance.
*Tonight's performance is FREE for Metropolitan Community College Students and Faculty! (You must still register)
The public is welcome to purchase tickets at the standard rate*